Welcome to the Louisiana Classifieds. Free classified ads for pets, products and items.


of "free pets" (but you pay shipping), cashier's check scams and other fraud. NEVER WIRE MONEY - How to avoid being scammed online

If someone responds to your ad and asks you to go to another web site, or look at some video, it's a scam and likely a trick to get you to install a virus on your computer so the scammer can steal your identity and personal information!


Are you on Facebook? Please "Like" Louisiana Classifieds on Facebook!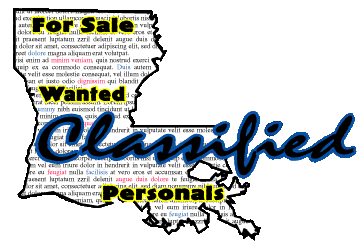 CKC Registered Chocolate and White Long Coat Male - Meet Jingle! This little man has such an amazing personality and he loves to play. He is going to steal your families heart and never give it back! He likes being with you and loves his toys. He is a tiny fella and is charting at 3.5 pounds. This little guy is 12 weeks and looking for his forever home. He is up to date on his shots, dewormings and is vet checked also! Asking 700 for him. For further information on how to make of my babies the newest addition to your family, give Karen a call at 225-276-6557 or visit my website at http://www.paisleydaisypups.com All of my babies are raised in my home with lots of love and attention. You new baby will come home up to date on de-worming, vaccinations and vet checked from head to tail :-) Puppies can be held with a $100 non-refundable deposit until go home day and safe shipping is available too! Thank for your interest in my little ones :-)

(If a larger resolution of the image is available, click here or on the pic to the right to display it)






From: Karen - click here to contact, Baton Rouge, La
Fraud check: From where was this ad posted?
Ad Number 404, Category: Pets/Livestock
Report Ad to moderators Mon Dec 19 09:34:09 2016 GMT - (454.00 days old)
CKC Registered Chocolate Long Coat Female - Meet Belle! This little girl has such an sweet and loving personality. She is going to steal your families heart like no other pup! this little girl is charting 3.5 pounds and is just a doll! Please feel free to contact me for a video! She likes being with you and loves to cuddle. This little gal is 12 weeks and looking for her forever home. She is up to date on her shots, deworming and has been vet checked too! Asking 850 for her. For further information on how to make of my babies the newest addition to your family, give Karen a call at 225-276-6557 or visit my website at http://www.paisleydaisypups.com All of my babies are raised in my home with lots of love and attention. Puppies can be held with a $100 non-refundable deposit until go home day and safe shipping is available too! Thank for your interest in my little ones :-)

(If a larger resolution of the image is available, click here or on the pic to the right to display it)






From: Karen - click here to contact, Baton Rouge, La
Fraud check: From where was this ad posted?
Ad Number 403, Category: Pets/Livestock
Report Ad to moderators Mon Dec 19 09:28:28 2016 GMT - (454.00 days old)
Rat Terrier - Joel is a black/tan piebald male Rat Terrier. Comes current on shots, wormed, tail docked and dewclaws removed. ACR puppy papers for registration. http://www.runningridge.com Ready 12/23 and can meet buyer in Shreveport the morning of the 23rd or 24th. Call/Text Nancy at 430-200-8170

(If a larger resolution of the image is available, click here or on the pic to the right to display it)






From: Nancy - click here to contact, Fouke, Ar
Fraud check: From where was this ad posted?
Ad Number 401, Category: Pets/Livestock
Report Ad to moderators Sun Dec 18 13:07:36 2016 GMT - (454.85 days old)
Biewer Yorkie - $1000.00 firm. Will be ready for new home on 12/23/16. 1 Male and 1 Female still available. Female Ready Now - Male will be ready on 12/23. Can meet buyer in Shreveport. Serious Inquiries Only. http://www.runningridge.com Call/Text Nancy at 430-200-8170

(If a larger resolution of the image is available, click here or on the pic to the right to display it)






From: Nancy - click here to contact, Fouke, Ar
Fraud check: From where was this ad posted?
Ad Number 400, Category: Pets/Livestock
Report Ad to moderators Sun Dec 18 13:04:24 2016 GMT - (454.85 days old)
Rat Terrier - Senator is a Red Merle male Rat Terrier. $250.00 - current on puppy shots, wormed, tail docked and dewclaws removed. Friendly and outgoing - been playing with two 3 year olds his whole life. http://www.runningridge.com Can meet buyer in Shreveport. Call/TExt Nancy at 430-200-8170

(If a larger resolution of the image is available, click here or on the pic to the right to display it)






From: Nancy - click here to contact, Fouke, Ar
Fraud check: From where was this ad posted?
Ad Number 399, Category: Pets/Livestock
Report Ad to moderators Sun Dec 18 13:01:54 2016 GMT - (454.85 days old)
~~~Mae~~~ is a gorgeous black/tan belted female Biewer Yorkie. Cute as they come. Current on shots, wormed, tail docked and dewclaws removed. BYA puppy papers ON HAND to register puppy. $1000.00 FIRM - Serious Inquiries Only Please! http://www.runningridge.com AM willing to meet puppy buyer in Shreveport. Call/Text Nancy at 430-200-8170

(If a larger resolution of the image is available, click here or on the pic to the right to display it)






From: Nancy - click here to contact, Fouke, Ar
Fraud check: From where was this ad posted?
Ad Number 398, Category: Pets/Livestock
Report Ad to moderators Sun Dec 18 12:58:27 2016 GMT - (454.86 days old)
He is a cutie pie and getting cuter everyday. Up to date on shots and worming. Call or text about him today 318/331-0088. Can meet a little ways if needed. He is black & tan dapple very pretty marking on him. He is ready to go anytime now. He is $425 CKC Reg.

(If a larger resolution of the image is available, click here or on the pic to the right to display it)






From: kathy - click here to contact, West Monroe, La
Fraud check: From where was this ad posted?
Ad Number 396, Category: Pets/Livestock
Report Ad to moderators Sun Dec 18 08:59:42 2016 GMT - (455.02 days old)
This little guy is so much prettier in person. Up to date on shots and worming. Call or text 318/331-0088 because I don't check my emails much. Can meet a little ways if needed. He is a Isabella & tan dapple male. Very pretty marking on him. He is $500 CKC Reg. Ready to go anytime now.

(If a larger resolution of the image is available, click here or on the pic to the right to display it)






From: kathy - click here to contact, West Monroe, La
Fraud check: From where was this ad posted?
Ad Number 395, Category: Pets/Livestock
Report Ad to moderators Sun Dec 18 08:53:03 2016 GMT - (455.03 days old)
~~~Mae~~~ is a gorgeous black/tan belted female Biewer Yorkie. $1000.00 firm. Serious Inquiries Only! BYA registered, 1st set of shots, wormed, dewclaws removed and tail docked. Can be picked up in Texarkana or we will meet a puppy buyer in Shreveport. Ready Now! Call/TExt Nancy at 430-200-8170 http://www.runningridge.com

(If a larger resolution of the image is available, click here or on the pic to the right to display it)






From: Nancy - click here to contact, Fouke, Ar
Fraud check: From where was this ad posted?
Ad Number 386, Category: Pets/Livestock
Report Ad to moderators Fri Dec 16 17:08:48 2016 GMT - (456.68 days old)
He is a cutie pie. Getting cuter everyday. Up to date on shots and worming. Call or text about him today 318/331-0088. Can meet a little ways if needed. He is $400 CKC reg. I guarantee you will love him. Very pretty shiny coat. He is black and tan smooth coat male.

(If a larger resolution of the image is available, click here or on the pic to the right to display it)






From: kathy - click here to contact, West Monroe, La
Fraud check: From where was this ad posted?
Ad Number 385, Category: Pets/Livestock
Report Ad to moderators Thu Dec 15 21:11:20 2016 GMT - (457.51 days old)
I Have a litter of Shih-Tzu's that are ready to go. They will leave with 1st shots, wormings , a written Health Guarantee and a puppy starter pack. They have had dewclaws removed. They are $700.00 for CKC Reg. and an extra $50.00 for AKC Reg. cash only please. Call home #337-463-2256 or call or text cell # 337-401-7395

(If a larger resolution of the image is available, click here or on the pic to the right to display it)






From: Annette - click here to contact, Deridder, La
Fraud check: From where was this ad posted?
Ad Number 384, Category: Pets/Livestock
Report Ad to moderators Thu Dec 15 18:00:29 2016 GMT - (457.65 days old)
^*^Bocephus^*^ is a Black/Tan Piebald male Biewer Yorkie (*Fancy Yorkie). He will be ready for a new home on 12/23 or 12/24. We can meet a puppy buyer in Shreveport the morning of 12/23 or by scheduled appointment on 12/24. $1000.00 firm. Will be current on shots, wormed and have BYA puppy papers for full registration. Serious Inquiries Only Please! http://www.runningridge.com Call/Text Nancy at 430-200-8170

(If a larger resolution of the image is available, click here or on the pic to the right to display it)






From: Nancy - click here to contact, Fouke, Ar
Fraud check: From where was this ad posted?
Ad Number 380, Category: Pets/Livestock
Report Ad to moderators Tue Dec 13 14:28:37 2016 GMT - (459.79 days old)
~*~Sarah~*~ is a gorgeous Fawn female puppy - Very sweet!!! She is 1/2 Doberman and 1/2 Pit Bull. Serious Inquiries Only Please. Ready for a new home now. Have 3 still available! See all of them at http://www.runningridge.com $75.00 each - have 1st set of shots and been wormed. These belong to a neighbor and she needs to see them get into new homes NOW. Call/Text Nancy at 430-200-8170

(If a larger resolution of the image is available, click here or on the pic to the right to display it)






From: Nancy - click here to contact, Fouke, Ar
Fraud check: From where was this ad posted?
Ad Number 379, Category: Pets/Livestock
Report Ad to moderators Wed Dec 14 13:36:57 2016 GMT - (458.83 days old)
~~~Joel~~~ is a black/tan piebald male Rat Terrier Pup. He is a very nice looking lil guy. Will be current on shots and wormed with ACR puppy papers for registration. $500.00 firm. Will be ready 12/23 or 12/24 for pick up. Can meet buyer in Shreveport the morning of 12/23 or at a scheduled time on 12/24. http://www.runningridge.com Call/Text Nancy at 430-200-8170 Serious Inquiries Only Please!

(If a larger resolution of the image is available, click here or on the pic to the right to display it)






From: Nancy - click here to contact, Fouke, Ar
Fraud check: From where was this ad posted?
Ad Number 378, Category: Pets/Livestock
Report Ad to moderators Tue Dec 13 14:10:44 2016 GMT - (459.81 days old)
~~~Champ~~~ is a black/tan piebald male Rat Terrier puppy. Cute as they come. Will be ready 12/23 or 12/24 for pick up. $500.00 firm. Will be current on shots, wormed and have ACR puppy papers for registration. Can meet buyer in Shreveport the morning of 12/23 or a scheduled time on 12/24. Call/Text Nancy at 430-200-8170 http://www.runningridge.com

(If a larger resolution of the image is available, click here or on the pic to the right to display it)






From: Nancy - click here to contact, Fouke, Ar
Fraud check: From where was this ad posted?
Ad Number 377, Category: Pets/Livestock
Report Ad to moderators Tue Dec 13 14:07:12 2016 GMT - (459.81 days old)
Now taking NON-refundable deposits on CKC registered Chihuahua puppies... born Oct.31st 2016. Will be 6 weeks old Sunday.December 11th. First shots and wormer will be administered before going to their furever home... $150.00 deposit is required and will be ready to go by Christmas. $400.00 for the (Black) male $350.00 for the (brown and white)male. Mom & Dad are on site! Contact Trisha @ 985-688-9834 Or message me Patricia Verdin via Facebook. ONLY serious inquiries need apply please for I do want them going to a great home.

(If a larger resolution of the image is available, click here or on the pic to the right to display it)






From: Patricia Verdin - click here to contact, Houma, La
Fraud check: From where was this ad posted?
Ad Number 376, Category: Pets/Livestock
Report Ad to moderators Mon Dec 12 18:21:18 2016 GMT - (460.63 days old)
Just in time for Christmas! This little guy will be ready on 12/23. He will come with a certificate of health from my vet, up to date on vaccines and de-wormings, and his Ckc registration papers. He has been raised around children and other dogs. A deposit is required to hold him of $100 His full price is $500 Don't miss out on adding him to your family.

(If a larger resolution of the image is available, click here or on the pic to the right to display it)






From: kelly brown - click here to contact, Maurepas, La
Fraud check: From where was this ad posted?
Ad Number 374, Category: Pets/Livestock
Report Ad to moderators Sat Dec 10 20:16:43 2016 GMT - (462.55 days old)
Hello their we have a beautiful litter of babies ready for Christmas eve night or day or even afterwards.. visit www.furrykenneltails.com go to nursery to see these beautiful babies we have they will come vet check akc papers 1st shot at right age n more call day to hold one.. we have salt pepper girls n a liver tan girl my parti male is pending right now 6017545769 can't wait to answer your questions.. God bless and happy holidays





From: Barbara - click here to contact, Jayess, Ms
Fraud check: From where was this ad posted?
Ad Number 372, Category: Pets/Livestock
Report Ad to moderators Fri Dec 9 11:14:15 2016 GMT - (463.93 days old)
I have a litter of CKC Maltese puppies that will be ready Dec. the 12th but will hold till Christmas with a $100.00 deposit . They will leave with 1st shots, wormings, a health guarantee and a puppy starter pack. Prices are $800.00 to $1000.00 cash only please ! Call or text for more info 337-396-5529

(If a larger resolution of the image is available, click here or on the pic to the right to display it)






From: Janet - click here to contact, Deridder, La
Fraud check: From where was this ad posted?
Ad Number 367, Category: Pets/Livestock
Report Ad to moderators Mon Dec 5 11:11:59 2016 GMT - (467.93 days old)
CKC Registered Applehead female Chihuahua $500 Kaplan, LA (70548) CKC registered female Applehead Chihuahua $500 Sired AKC/CKC registered male with champion bloodlines. Available to be picked up small charting 4lbs Comes 1st shots, wormed and started puppy pad training. Includes CKC registration, health guarantee, shot records Toy, Blanket & sample food. Kaplan La Call or txt 337-517-7955 or pm for serious inquiries thanks Please visit my website http://www.pequenochibebes.com/ Have A Blessed Day!

(If a larger resolution of the image is available, click here or on the pic to the right to display it)






From: Susan Landry - click here to contact, Kaplan, La
Fraud check: From where was this ad posted?
Ad Number 364, Category: Pets/Livestock
Report Ad to moderators Sat Dec 3 11:47:34 2016 GMT - (469.91 days old)
AKC Euro line male French Bulldog puppy. Should be ready for Christmas Eve. Vet checked, written health guarantee, puppy care kit, shots/dewormings and 24/7 support. Beautiful boy with spunky personality. Price of $3,000 include limited AKC registration. Must picked up in Kentwood, Clinton or Ferriday. Some further delivery available to specific locations. Cash only. Deposit of $400 to hold. Email or text 601-810-0142 (cannot accept calls at work). Serious inquiries only.

(If a larger resolution of the image is available, click here or on the pic to the right to display it)






From: stephanie wilson - click here to contact, Gloster, Ms
Fraud check: From where was this ad posted?
Ad Number 363, Category: Pets/Livestock
Report Ad to moderators Fri Dec 2 14:19:03 2016 GMT - (470.80 days old)
Beautiful apricot maltipoo baby girl looking for her Christmas home. Will be current on shots/dewormings, vet checked, and come with a written health guarantee. Puppy care kit provided for local pick up. Estimated adult size of 5 to 9 pounds. 25 years worth of references. Must pick up in Kentwood, Clinton or Ferriday (will consider further delivery for a fee). $1,200 cash. ($300 deposit to hold). Please email or text 601-810-0142 (cannot take calls at work)

(If a larger resolution of the image is available, click here or on the pic to the right to display it)






From: stephanie wilson - click here to contact, Gloster, Ms
Fraud check: From where was this ad posted?
Ad Number 362, Category: Pets/Livestock
Report Ad to moderators Mon Dec 5 09:26:31 2016 GMT - (468.00 days old)
ADORABLE SHIH TZU AND SHORKIE (SHIH TZU/YORKIE) PUPPIES AVAILABLE!! Males and Females! Gorgeous coats! Beautiful faces! These puppies are ready for their new home. Call to purchase your new baby today! Metairie and Ponchatoula area. Please call for more information: 985-370-5606 (H) or 504-858-0488 (C)

(If a larger resolution of the image is available, click here or on the pic to the right to display it)






From: Carol - click here to contact, Ponchatoula, La
Fraud check: From where was this ad posted?
Ad Number 361, Category: Pets/Livestock
Report Ad to moderators Thu Dec 1 14:19:49 2016 GMT - (471.80 days old)
LOOKY LOOKY LOOKY - Patti is a drop dead stunning black/tan belted female Biewer Yorkie - FANCY YORKIE! She will leave our care current on shots, wormed, tail docked, dewclaws removed and have BYA puppy papers for registration. Can meet buyer in Shreveport. Will be ready 12/17/16. http://www.runningridge.com $1250.00 FIRM. CAll/Text Nancy at 430-200-8170

(If a larger resolution of the image is available, click here or on the pic to the right to display it)






From: Nancy - click here to contact, Fouke, Ar
Fraud check: From where was this ad posted?
Ad Number 359, Category: Pets/Livestock
Report Ad to moderators Wed Nov 30 21:55:06 2016 GMT - (472.48 days old)
Anne is a black/tan female Min Pin. $650.00 firm. Born on 03/12/16. I feel she is too small for breeding purposes. Is current on shots, wormed, tail docked, dewclaws removed and has Puppy Papers for registration. http://www.runningridge.com Call/Text Nancy at 430-200-8170 Can meet buyer in Shreveport.

(If a larger resolution of the image is available, click here or on the pic to the right to display it)






From: Nancy - click here to contact, Fouke, Ar
Fraud check: From where was this ad posted?
Ad Number 358, Category: Pets/Livestock
Report Ad to moderators Wed Nov 30 21:50:38 2016 GMT - (472.49 days old)
Joel is a black/tan piebald male Rat Terrier. Will be current on shots, wormed, tail docked, dewclaws removed and puppy papers for registration. Will be ready on 12/23. Can meet puppy buyer in Shreveport. http://www.runningridge.com Call/Text Nancy at 430-200-8170

(If a larger resolution of the image is available, click here or on the pic to the right to display it)






From: Nancy - click here to contact, Fouke, Ar
Fraud check: From where was this ad posted?
Ad Number 357, Category: Pets/Livestock
Report Ad to moderators Wed Nov 30 21:46:36 2016 GMT - (472.49 days old)
AWWWW - How Sweet! Judy is a precious black/tan tri female Rat Terrier. $550.00 firm. Will be current on shots, wormed, tail docked and dewclaws removed. ACR puppy papers for registration. Can meet puppy buyer in Shreveport. http://www.runningridge.com Call/Text Nancy at 430-200-8170

(If a larger resolution of the image is available, click here or on the pic to the right to display it)






From: Nancy - click here to contact, Fouke, Ar
Fraud check: From where was this ad posted?
Ad Number 356, Category: Pets/Livestock
Report Ad to moderators Wed Nov 30 21:44:15 2016 GMT - (472.49 days old)
Jasper is a gorgeous black/tan piebald male Biewer Yorkie - FANCY YOrKIE!!!! He will be current on shots, wormed, tail docked and dewclaws removed upon leaving our care. Will come with his BYA puppy papers for registration. Can meet buyer in Shreveport. Will be ready 12/17/16. $1000.00 firm. http://www.runningridge.com Call/TExt Nancy at 430-200-8170

(If a larger resolution of the image is available, click here or on the pic to the right to display it)






From: Nancy - click here to contact, Fouke, Ar
Fraud check: From where was this ad posted?
Ad Number 355, Category: Pets/Livestock
Report Ad to moderators Wed Nov 30 21:41:14 2016 GMT - (472.49 days old)
**Brinlee - is a drop dead gorgeous brown/tan brindle female Harlequin Pinscher also known as a fancy Min Pin. She is current on shots, wormed, tail docked, dewclaws removed and has her HPA puppy papers for registration. Can meet buyer in Shreveport. She is priced FIRM at $900.00. I feel she is going to be to small for breeding. DOB: 05/18/16. http://www.runningridge.com Call/Text Nancy at 430-200-8170

(If a larger resolution of the image is available, click here or on the pic to the right to display it)






From: Nancy - click here to contact, Fouke, Ar
Fraud check: From where was this ad posted?
Ad Number 354, Category: Pets/Livestock
Report Ad to moderators Wed Nov 30 21:37:40 2016 GMT - (472.50 days old)
Senator is a Red Merle male Rat Terrier. Born on 08/23/16. He is current on shots, wormed, tail docked and dewclaws removed. Comes with full papers for registration. Can meet buyer in Shreveport. Ready for his new forever loving home now! $500.00 http://www.runningridge.com Call/Text Nancy at 430-200-8170

(If a larger resolution of the image is available, click here or on the pic to the right to display it)






From: Nancy - click here to contact, Fouke, Ar
Fraud check: From where was this ad posted?
Ad Number 353, Category: Pets/Livestock
Report Ad to moderators Wed Nov 30 21:33:38 2016 GMT - (472.50 days old)
Bocephus is a gorgeous black/tan piebald male Parti Biewer Yorkie. He is priced at $1000.00 and comes with his first set of shots, wormed, tail docked, dewclaws removed and BYA puppy papers for registration. Can meet buyer in Shreveport. Ready on 12/23/16. Call/Text Nancy at 430-200-8170 http://www.runningridge.com

(If a larger resolution of the image is available, click here or on the pic to the right to display it)






From: Nancy - click here to contact, Fouke, Ar
Fraud check: From where was this ad posted?
Ad Number 352, Category: Pets/Livestock
Report Ad to moderators Wed Nov 30 21:30:21 2016 GMT - (472.50 days old)
Hello, We have this one precious little male Chihuahua puppy available at this time for only $200 This little guy is ready for his Fur-Ever new family : ) When he is relocated he will be UTD on all beginner puppy shots, dewormed several times. He will also come with his registration papers, shot records, one year genetic health guarantee and of course, pre-spoiled! If you are within driving distance, you are more than welcome to come pick one of these little ones up.. I am in Shreveport, La. Please let me know if you have any other questions or concerns.. Thanks! Michelle 318-423-1860

(If a larger resolution of the image is available, click here or on the pic to the right to display it)






From: Michelle - click here to contact, Shreveport, La
Fraud check: From where was this ad posted?
Ad Number 351, Category: Pets/Livestock
Report Ad to moderators Mon Nov 28 09:57:42 2016 GMT - (474.98 days old)
Akc registered longcoat male Chihuahua ready now! This little fella is as smart as they come. He plays fetch and speaks at such a young age. He's super fun and so loveable. He's already been vet checked with a clean bill of health, current on vaccinations and wormings. Raised around children and other pets. Charting 4-4 1/2 lbs as adult. His date of birth is 9/9/16 Asking $700 Call Christi 225-975-6764

(If a larger resolution of the image is available, click here or on the pic to the right to display it)






From: christi comeaux - click here to contact, Denham Springs, La
Fraud check: From where was this ad posted?
Ad Number 346, Category: Pets/Livestock
Report Ad to moderators Mon Nov 21 21:23:33 2016 GMT - (481.51 days old)
Bailey is as sweet as they come!!!! She loves to play and will follow you all day long to be your pal!!!! She is a Tan female with a black nose and dark eyes out of a Blue Female Doberman and a Black Male Pit Bull. Can be picked up in Ida, Louisiana Call/Text Nancy at 430-200-8170

(If a larger resolution of the image is available, click here or on the pic to the right to display it)






From: Nancy - click here to contact, Fouke, Ar
Fraud check: From where was this ad posted?
Ad Number 341, Category: Pets/Livestock
Report Ad to moderators Sun Nov 20 20:26:21 2016 GMT - (482.55 days old)
***Axel*** is a gorgeous Blue/Fawn male puppy out of a Blue Female Doberman and a Black male Pit Bull. He is super sweet and thinks he is already a BIG boy. These puppies have such big personalities. Can be picked up in Ida, Louisiana. Call/Text Nancy at 430-200-8170

(If a larger resolution of the image is available, click here or on the pic to the right to display it)






From: Nancy - click here to contact, Fouke, Ar
Fraud check: From where was this ad posted?
Ad Number 338, Category: Pets/Livestock
Report Ad to moderators Sun Nov 20 20:15:19 2016 GMT - (482.55 days old)
I have a litter of CKC Maltese puppies that will be ready Dec. the 12th but will hold till Christmas with a $100.00 deposit . They will leave with 1st shots, wormings, a health guarantee and a puppy starter pack. Prices are $800.00 to $1000.00 cash only please ! Call or text for more info 337-396-5529

(If a larger resolution of the image is available, click here or on the pic to the right to display it)






From: Janet - click here to contact, Deridder, La
Fraud check: From where was this ad posted?
Ad Number 335, Category: Pets/Livestock
Report Ad to moderators Thu Nov 17 14:08:34 2016 GMT - (485.81 days old)
I've been searching for a GSD for a while. 6-12 weeks old & no more than $200. If the puppy had its shots, then I'd reconsider paying more. preferable a male, but a girl is okay too. long hair would be nice! puppy must be energetic and alert. If you live close, I'll drive to your area. If you live far we could meet up half way. *text only*





From: wen - click here to contact, Baton Rouge, La
Fraud check: From where was this ad posted?
Ad Number 329, Category: Pets/Livestock
Report Ad to moderators Thu Nov 17 00:40:53 2016 GMT - (486.37 days old)
I have a pair of miniature horses to sell, Stud horse, Shorty is sorrel, flaxen mane and tail, only 27" short! The mare is Baby Doll, she is buckskin pinto/paint 32" short and bred to Shorty. Asking $800 for the pair. Please contact Tee by text or calling 601-273-1722 anytime. Can text additional pics!! Mare pic posted is Baby Doll and Shortys foal born April 31, 2014, I named her April, not up for grabs 😍, thanks!

(If a larger resolution of the image is available, click here or on the pic to the right to display it)






From: Tee - click here to contact, Poplarville, Ms
Fraud check: From where was this ad posted?
Ad Number 324, Category: Pets/Livestock
Report Ad to moderators Sat Nov 12 13:16:09 2016 GMT - (490.84 days old)
I have a litter of CKC Malti-Tzu puppies that will be ready to go Saturday the 12TH. They will leave with 1st shots, wormings, a written Health Guarantee and a puppy starter pack. Prices are $700.00 & $800.00 cash only please ! Call Home # 337-463-2256 or call or text cell # 337-401-7395

(If a larger resolution of the image is available, click here or on the pic to the right to display it)






From: Annette - click here to contact, Deridder, La
Fraud check: From where was this ad posted?
Ad Number 322, Category: Pets/Livestock
Report Ad to moderators Thu Nov 10 09:38:42 2016 GMT - (493.00 days old)
This handsome fella is now ready to find his forever family. He is a brindle spotted longcoat Chihuahua. He has been vet checked and will come with Akc limited registration papers and up to date on shots and wormings. He will be on the larger side so no breeders please! Asking $350 Call for additional info or more pics 225-975-6764

(If a larger resolution of the image is available, click here or on the pic to the right to display it)






From: christi comeaux - click here to contact, Denham Springs, La
Fraud check: From where was this ad posted?
Ad Number 320, Category: Pets/Livestock
Report Ad to moderators Wed Nov 9 21:24:30 2016 GMT - (493.51 days old)
All pups will come with 2 weeks of food, Kennel club applications, written 1 year health guarantee, age appropriate shots & deworming with records. CKC Khloe Black & white SC 4-5LBS FULLY GROWN. Mom is 7lbs & dad is 3lbs. D.O.B. 7/2216 $350 AKC Lexington Tri Black, white & tan LC 5-6lbs fully grown. Mom is 7lbs & dad is 5lbs. D.O.B. 7/27/16. $500 CKC ONLY GIRL Maggie Lavender blue merle & white LC 5-6LBS FULLY GROWN. Mom is 7lbs & dad is 3lbs.D,O,B. 7/30/16. $4 CKC Manny blue merle, white & tan LC 3-4LBS FULLY GROWN.Mom is 7lbs & dad is 3lbs.D,O,B. 7/30/16. $400 CKC Matty black & white WITH BLUE UNDE RCOAT LC MALE 4-5LBS FULLY GROWN.Mom is 7lbs & dad is 3lbs.D,O,B. 7/30/16. $400 CKC MARIO BLUE MERLE WITH WHITE & TAN LC 6-7LBS FULLY GROWN.Mom is 7lbs & dad is 3lbs.D,O,B. 7/30/16. $350 CONTACT ME FOR PICS





From: ashley - click here to contact, Kenner, La
Fraud check: From where was this ad posted?
Ad Number 319, Category: Pets/Livestock
Report Ad to moderators Tue Nov 8 23:52:50 2016 GMT - (494.40 days old)
POLARIS SPORTSMAN 850 POWER STEERING AND MANY MORE EXTRAS - $6000 (Baton Rouge) 2010 Polaris sportsman 850 in great shape.Burgandy in color.low hours.Power steering,front and rear push bumpers and racks,warn winch,performance chip,performance exhaust,New high lifter outlaws tires.just the tires are 2000.00 dollars.also has a tow hitch.this is a fine machine and very fast.serious inquiries only.





From: Billy - click here to contact, Baton Rouge, La
Fraud check: From where was this ad posted?
Ad Number 317, Category: Automotive - ATVs
Report Ad to moderators Sat Nov 5 13:27:58 2016 GMT - (497.88 days old)
AKC Blue/tan mini male dachshund for sale, born on 5/26, he weighs 5# and should remain small, out of small parents, short hair, price of $700 includes full AKC, age appropriate shots, worming, health guarantee. He has a great personality. Text, email or call for more info.

(If a larger resolution of the image is available, click here or on the pic to the right to display it)






From: S. Brewer - click here to contact, Mauriceville, TX 77626
Fraud check: From where was this ad posted?
Ad Number 316, Category: Pets/Livestock
Report Ad to moderators Fri Nov 4 15:38:53 2016 GMT - (498.79 days old)
Two Yorkie need forever home/ foster home. Male and Female Great Yorkie with blue eyes.They have had their first //Three// set of shots. they are AKC. They are friendly to all animals. They are full of energy and can play all day. Along with them i'm giving away a brand new cage from pet smart with a divider, a retractable leash, dog dish.They are update on shots and neutered also.Gets along great with other dogs but not cats never been with them. They will come with all their papers AKC pure bred registration paperwork, health record, starter kibble, health guarantee and care information..very playful and loving. Socialized with my children and other dogs on a daily basis.text us via 518 512 9567

(If a larger resolution of the image is available, click here or on the pic to the right to display it)






From: chanceler - click here to contact, Lexington, Ky
Fraud check: From where was this ad posted?
Ad Number 314, Category: Pets/Livestock
Report Ad to moderators Thu Nov 3 06:20:09 2016 GMT - (500.18 days old)
I have a litter of CKC Mini Dachshund puppies ( 2 females) that were born on 9/11/16 and are ready to go. They will leave with 1st shots , wormings, a written Health Guarantee and a puppy starter pack. Prices are $450.00 Cash only please . Call for more info Home # 337-463- 2256 or call or text cell # 337-401-7395 Thanks

(If a larger resolution of the image is available, click here or on the pic to the right to display it)






From: Annette - click here to contact, Deridder, La
Fraud check: From where was this ad posted?
Ad Number 309, Category: Pets/Livestock
Report Ad to moderators Sat Oct 29 12:33:54 2016 GMT - (504.92 days old)
BYA registered Biewer Yorkies. Purebred Belted/Spotted Biewer Yorkies. $1500.00 each FIRM. 1 male and 1 female available. Must be picked up on December 17th, 2016. $500.00 required deposit to reserve. Call/Text Nancy at 430-200-8170 Serious Inquiries Only Please

(If a larger resolution of the image is available, click here or on the pic to the right to display it)






From: Nancy - click here to contact, Fouke, Ar
Fraud check: From where was this ad posted?
Ad Number 306, Category: Pets/Livestock
Report Ad to moderators Tue Oct 25 12:35:26 2016 GMT - (508.91 days old)
Biewer Yorkies - we have 1 male and 1 female Biewer Yorkie (*Belted Yorkies/Spotted Yorkies). They will wean and be ready for pick up on December 17th. $1500.00 each - FIRM. $500.00 required deposit to reserve. BYA registered. Will leave our care current on shots, wormed, microchipped, tail docked and dewclaws removed. http://www.runningridge.com Call/Text Nancy at 430-200-8170





From: Nancy - click here to contact, Fouke, Ar
Fraud check: From where was this ad posted?
Ad Number 305, Category: Pets/Livestock
Report Ad to moderators Tue Oct 25 12:29:18 2016 GMT - (508.92 days old)
~~~Senator~~~ is a Red merle male Rat Terrier. Gorgeous from head to tail and has the most outstanding personality. Comes current on shots, wormed and with his ACR puppy papers for registration. Can be picked up in Texarkana, Arkansas or we can meet buyer in Shreveport. $500.00 firm. Ready Now! http://www.runningridge.com Call/Text Nancy at 430-200-8170

(If a larger resolution of the image is available, click here or on the pic to the right to display it)






From: Nancy - click here to contact, Fouke, Ar
Fraud check: From where was this ad posted?
Ad Number 304, Category: Pets/Livestock
Report Ad to moderators Tue Oct 25 12:00:56 2016 GMT - (508.94 days old)
~*~White Knight~*~ is a very unique male Rat Terrier in Black/Tan Merle/Piebald. He is current on shots, wormed and has ACR puppy papers for registration. He can be picked up in Texarkana, Arkansas or we can meet a buyer in Shreveport. $500.00 firm http://www.runningridge.com Call/Text Nancy at 430-200-8170

(If a larger resolution of the image is available, click here or on the pic to the right to display it)






From: Nancy - click here to contact, Fouke, Ar
Fraud check: From where was this ad posted?
Ad Number 303, Category: Pets/Livestock
Report Ad to moderators Tue Oct 25 11:55:17 2016 GMT - (508.94 days old)
~~~Alena~~~ is a Red female Rat Terrier. She is very tiny! She weighs in at 1.5# at 8 weeks old. She is spunky, healthy, outgoing and lovable. She sells current on shots, wormed, and with her ACR puppy papers for registration. $550.00 firm. Can be picked up in Texarkana, Arkansas or we can meet buyer in Shreveport. Call/Text Nancy at 430-200-8170

(If a larger resolution of the image is available, click here or on the pic to the right to display it)






From: Nancy - click here to contact, Fouke, Ar
Fraud check: From where was this ad posted?
Ad Number 302, Category: Pets/Livestock
Report Ad to moderators Tue Oct 25 11:52:11 2016 GMT - (508.94 days old)
I have a litter of CKC Dachshund females that are ready to go . They will leave with 1st shots, wormings, a written health guarantee and a puppy starter pack. They are very sweet and love to play . Prices are $450.00 each. Cash only please ! call home # 337-463-2256 or cell # 337-401-7395

(If a larger resolution of the image is available, click here or on the pic to the right to display it)






From: Annette - click here to contact, Deridder, La
Fraud check: From where was this ad posted?
Ad Number 301, Category: Pets/Livestock
Report Ad to moderators Fri Oct 21 19:16:01 2016 GMT - (512.64 days old)
Mobil Home with large Livingroom/w/fireplace, 2 bedrooms, 1 bath, new appliances, some wood floors. front and back porches. two storage buildings, large carport. Large lot with beautiful trees, paved driveway. $50,000.

(If a larger resolution of the image is available, click here or on the pic to the right to display it)






From: John Rush - click here to contact, Buna, Tx
Fraud check: From where was this ad posted?
Ad Number 294, Category: Real Estate - Residences for sale
Report Ad to moderators Mon Oct 17 15:05:43 2016 GMT - (516.81 days old)
Gorgeous, Sweet, Intact, Solid White/Blue eye, Male persian. 1 yr old. The pics dont do him justice. His eyes are a silvery blue/gray. Can text tons more pics, he's a ham! LOL But my female hates him :'( I was hoping once she came into heat and he was old enough, she would accept him, but no. The scratch on his nose in the pic is from her :(. 125$ rehoming fee. Text 985-974-5517 Service here isnt usually good enough for calls

(If a larger resolution of the image is available, click here or on the pic to the right to display it)






From: Janie - click here to contact, Independence, La
Fraud check: From where was this ad posted?
Ad Number 292, Category: Pets/Livestock
Report Ad to moderators Fri Oct 14 16:06:23 2016 GMT - (519.77 days old)
ADORABLE TINY MALTESE/SHIHTZU PUPPY! This little guy is only 1 pound 4 ounces at 11 1/2 weeks! He is super SWEET with a GORGEOUS coat! He is one of a kind! Looking for a special home with experience in raising tiny puppies. Please call for more information: 504-858-0488 (C) or 985-370-5606 (H). Metairie and Ponchatoula area.

(If a larger resolution of the image is available, click here or on the pic to the right to display it)






From: Carol - click here to contact, Ponchatoula, La
Fraud check: From where was this ad posted?
Ad Number 291, Category: Pets/Livestock
Report Ad to moderators Thu Oct 13 17:48:56 2016 GMT - (520.70 days old)
~~Red Dawn~~ is a Red Merle/Piebald female Rat Terrier puppy. She has had her tail docked, dewclaws removed, 1st set of shots and wormed. She comes with full ACR puppy papers for registration. Can meet buyer in Shreveport. Should mature around 10#. Call/Text Nancy at 430-200-8170

(If a larger resolution of the image is available, click here or on the pic to the right to display it)






From: Nancy - click here to contact, Fouke, Ar
Fraud check: From where was this ad posted?
Ad Number 288, Category: Pets/Livestock
Report Ad to moderators Sat Oct 8 13:24:47 2016 GMT - (525.88 days old)
""Senator"" is a Stag Red Merle male Rat Terrier. Should mature around 10-12# grown. $500.00. Has tail docked, dewclaws removed, 1st set of shots, been wormed and comes with full breeding rights with ACR puppy papers. Can meet buyer in Shreveport. Call/Text Nancy at 430-200-8170 Cash only at pick up.

(If a larger resolution of the image is available, click here or on the pic to the right to display it)






From: Nancy - click here to contact, Fouke, Ar
Fraud check: From where was this ad posted?
Ad Number 287, Category: Pets/Livestock
Report Ad to moderators Sat Oct 8 13:22:15 2016 GMT - (525.88 days old)
.83 OF AN ACRE LOCATED RIGHT BESIDE I-12 INTERSTATE IN WALKER, LOUISIANA. HIGH TRAFFIC AREA.. VERY VISABLE TO PUBLIC. C-3 COMMERCIAL ZONED PROPERTY. Call for more info:(225)921-6115 or 479-885-0587 TWO MAJOR HOTELS LOCATED RIGHT NEXT TO THIS PROPERTY. A HUGE 40X60 SHOP BUILDING. GREAT INVEST OPPORTUNITY FOR JUST ABOUT ANYONE!!!! WHY LEASE WHEN YOU CAN OWN? CALL FOR MORE INFO AND SHOWING. $150,000. This property has an older home that had flood damage. All the inner walls that were effected have been gutted of sheetrock and insulation. Make it what you want. Or tear it down.

(If a larger resolution of the image is available, click here or on the pic to the right to display it)






From: JB Rhodus - click here to contact, Walker, La
Fraud check: From where was this ad posted?
Ad Number 283, Category: Real Estate - Commercial for sale
Report Ad to moderators Mon Oct 17 19:51:05 2016 GMT - (516.61 days old)
Female and male both available and will be great foundation to any breeding or show program. Their mom has produced amazing dogs, such as GRCH Triton Ch Brees Arya Trixie and Trick. Pups will leave fully vetted ABKC registered and health certificate. They will be ready for shipping or pick up Halloween weekend. #Consistencyisthekey.

(If a larger resolution of the image is available, click here or on the pic to the right to display it)






From: Amanda Walker - click here to contact, Pearl River, La
Fraud check: From where was this ad posted?
Ad Number 278, Category: Pets/Livestock
Report Ad to moderators Wed Oct 5 11:45:52 2016 GMT - (528.95 days old)
Available to an approved home. Ryker is a 6 week old (DOB: 8/13/2016) male german boxer puppy that we currently have available. His sire is Joubert's Ruger Von Lael. Ruger is 3/4 german and weighs 82#. His dam Boxkarr's Angelina, is 1/2 german and weighs 67lbs. He will be available Oct. 15 and will be vet checked and will have his first and second set of shots and wormings. He is my pick of the litter from a Ruger breeding. He is also the largest of the litter. He is currently in Panama City, Florida where the Dam is from but will arrive at our home on Oct. 15. This boy is extremely healthy and very well socialized. He is being raised with other boxers and a pig. If interested in this gorgeous boy, please contact me at 337-207-7376 Prrice: $850

(If a larger resolution of the image is available, click here or on the pic to the right to display it)






From: Tracy Joubert - click here to contact, Eunice
Fraud check: From where was this ad posted?
Ad Number 274, Category: Pets/Livestock
Report Ad to moderators Thu Sep 29 09:45:03 2016 GMT - (535.03 days old)
Tigger bobtail kitty. He's about grown. He is a bobtail cat!! Been kept inside the house and will use his litter box. He's super sweet, loves to sit in your lap and be loved on Will follow you around the house like a little doggie. Not shy or scared of strangers. Looking for his new forever family. If interested please call or text 225 259 0185.

(If a larger resolution of the image is available, click here or on the pic to the right to display it)






From: Britiany - click here to contact, Prairieville
Fraud check: From where was this ad posted?
Ad Number 272, Category: Pets/Livestock
Report Ad to moderators Thu Sep 29 00:16:29 2016 GMT - (535.43 days old)
First generation maltipom tiny baby girl. Estimated adult size of 5 to 9 pounds. Current on shots/dewormings, written health guarantee, and puppy care kit. Low to no shed. Super sweet and ready to go. $600 cash. Must pick up in Clinton, Ferriday or Kentwood. Email or text for more info 601-810-0142 (I cannot take calls at work).

(If a larger resolution of the image is available, click here or on the pic to the right to display it)






From: stephanie wilson - click here to contact, Gloster, Ms
Fraud check: From where was this ad posted?
Ad Number 271, Category: Pets/Livestock
Report Ad to moderators Thu Oct 13 09:24:59 2016 GMT - (521.05 days old)
Need to find a home for my 7 month old lab. She's very hyper with high energy. She's up to date on all shots. She just had her rabie shot in June or July of this year. My landlord insisted that I can't have large dogs. She does well around other dogs and children. I have a 2-1/2 year old niece who Dakota (labs name) loves and adores. She comes with her kennel, blankets, food, food and water bowls, leash, and toys. I am asking $150 for her. Located in Denham Springs, but will meet. Text 225-910-2945 for more pictures.

(If a larger resolution of the image is available, click here or on the pic to the right to display it)






From: Nikki - click here to contact, Denham Springs, La
Fraud check: From where was this ad posted?
Ad Number 268, Category: Pets/Livestock
Report Ad to moderators Mon Sep 26 23:31:07 2016 GMT - (537.46 days old)
Beautiful first generation maltipom pup male. Champion line. Low to no shed. Great first time kid's dog. Current shot/dewormings, health guarantee, and puppy care kit. Pup pictured is a male charting for 8 to 12 pounds. $500 cash. Must pick up in Kentwood, Clinton or Ferriday. Email or text only (cannot answer the phone at work) 601-810-0142. TONS of references.

(If a larger resolution of the image is available, click here or on the pic to the right to display it)






From: stephanie wilson - click here to contact, Gloster, Ms
Fraud check: From where was this ad posted?
Ad Number 267, Category: Pets/Livestock
Report Ad to moderators Wed Sep 28 09:22:26 2016 GMT - (536.05 days old)
Handfed female silver pearl cockatiel will be ready in a couple of weeks. She steps up, rides on your shoulder and has been handled by children. $100 for the bird only. I have a variety of baby cockatiels and parakeets that will be handfed and ready for Christmas. Located in Eunice. 337-466-2053.

(If a larger resolution of the image is available, click here or on the pic to the right to display it)






From: Dale Anne Dupre - click here to contact, Eunice, La
Fraud check: From where was this ad posted?
Ad Number 266, Category: Pets/Livestock
Report Ad to moderators Sun Sep 25 23:42:42 2016 GMT - (538.45 days old)
Stud service available. My boy Cooper is registered AKC and CKC. Has champion on mom and dads side. His color is blue merle. He is proven stud and has put out blue merle, blacks, and buffs. He will be 2 years old in January. He is current on all vaccines. For more info email, call, or text.

(If a larger resolution of the image is available, click here or on the pic to the right to display it)






From: April - click here to contact, Jeanerette, La
Fraud check: From where was this ad posted?
Ad Number 264, Category: Pets/Livestock
Report Ad to moderators Sat Sep 24 17:40:28 2016 GMT - (539.70 days old)
I have 2 female Shorkie's that are ready to go . They will leave with 2nd shots , wormings, a written health guarantee and a puppy starter pack. They are very sweet and love to play . Should be around 5 to 7 lbs grown according to the growth chart. $500.00 This weekend only take an additional $50.00 off !!!! Cash Only Please ! call home # 337-463- 2256 or cell # 337-401-7395

(If a larger resolution of the image is available, click here or on the pic to the right to display it)






From: Annette - click here to contact, Deridder, La
Fraud check: From where was this ad posted?
Ad Number 263, Category: Pets/Livestock
Report Ad to moderators Fri Sep 23 11:13:26 2016 GMT - (540.97 days old)
I have a litter of CKC Dachshund puppies that were born on 9/11/16 and will be ready to go around 10/23/16. They will leave with 1st shots , wormings, a written Health Guarantee and a puppy starter pack. Prices are $400.00 to $450.00. Now taking deposits of $100.00 to hold one for you. Call for more info Home # 337-463-2256 or call or text cell # 337-401-7395 Thanks

(If a larger resolution of the image is available, click here or on the pic to the right to display it)






From: Annette - click here to contact, Deridder, La
Fraud check: From where was this ad posted?
Ad Number 262, Category: Pets/Livestock
Report Ad to moderators Fri Sep 23 11:08:27 2016 GMT - (540.98 days old)
I have a litter of CKC Dachshund puppies that were born on 9/11/16 and will be ready to go around 10/23/16. They will leave with 1st shots , wormings, a written Health Guarantee and a puppy starter pack. Prices are $400.00 to $450.00. Now taking deposits of $100.00 to hold one for you. Call for more info Home # 337-463-2256 or call or text cell # 337-401-7395 Thanks

(If a larger resolution of the image is available, click here or on the pic to the right to display it)






From: Annette - click here to contact, Deridder, La
Fraud check: From where was this ad posted?
Ad Number 261, Category: Pets/Livestock
Report Ad to moderators Fri Sep 23 09:41:17 2016 GMT - (541.04 days old)
Beautiful first generation maltipom pup. Champion line. Low to no shed. Great first time kid's dog. Current shot/dewormings, health guarantee, and puppy care kit. Pup pictured is a male charting for 8 to 12 pounds. Tiny toy/teacups available as well. $500 to $600 cash. Must pick up in Kentwood, Clinton or Ferriday. Email or text only (cannot answer the phone at work) 601-810-0142. TONS of references.

(If a larger resolution of the image is available, click here or on the pic to the right to display it)






From: stephanie wilson - click here to contact, Gloster, Ms
Fraud check: From where was this ad posted?
Ad Number 260, Category: Pets/Livestock
Report Ad to moderators Thu Sep 22 12:54:54 2016 GMT - (541.90 days old)
this was a accidental breeding between my cavalier n a chiweeenie rescue. this is a male 6wks old, he will come to u, utd on shots n worming, 10 days of albon, bordatella. asking 30.00 to help cover the cost. please call me with n e questions at 337-853-3201 thanks, he also has a sister up for adoption

(If a larger resolution of the image is available, click here or on the pic to the right to display it)






From: doris anderson - click here to contact, starks
Fraud check: From where was this ad posted?
Ad Number 258, Category: Pets/Livestock
Report Ad to moderators Wed Sep 21 14:36:32 2016 GMT - (542.83 days old)
this was a accidental breeding between my cavalier n a rescue chiweenie, this is a female 6weeks old. she will come to u utd on shots n worming, bordatella, 10 days of albon. asking 30.00 to help cover the fees. live in starks louisiana can meet. please call with n e questions at 337-853-3201 she also has a brother up for adoption

(If a larger resolution of the image is available, click here or on the pic to the right to display it)






From: doris anderson - click here to contact, starks
Fraud check: From where was this ad posted?
Ad Number 257, Category: Pets/Livestock
Report Ad to moderators Wed Sep 21 14:33:26 2016 GMT - (542.83 days old)
Beautiful maltipoo baby boy with excellent coat and personality. Vet checked, written healthy guarantee, puppy care kit and current shots/dewormings. Ready to go now. Pick up is in Kentwood, Clinton or Ferriday. Please email or text for response (601-810-0142). $1,000 cash. References available. 25 years experience.

(If a larger resolution of the image is available, click here or on the pic to the right to display it)






From: stephanie wilson - click here to contact, Gloster, Ms
Fraud check: From where was this ad posted?
Ad Number 256, Category: Pets/Livestock
Report Ad to moderators Wed Sep 21 10:43:32 2016 GMT - (542.99 days old)
We have an adult female pom "Maggie" available to a pet or breeder home. She is a Beaver or Orange variant. She just weaned her first litter of pups and was an awesome mom of 3 white babies and one parti. We are parting with her simply because we are no longer going to breed poms and will be focusing on maltese, poodles and French bulldogs only. Interested parties, please text me at 601-810-0142. THANKS

(If a larger resolution of the image is available, click here or on the pic to the right to display it)






From: stephanie wilson - click here to contact, Gloster, Ms
Fraud check: From where was this ad posted?
Ad Number 255, Category: Pets/Livestock
Report Ad to moderators Wed Sep 21 10:32:42 2016 GMT - (543.00 days old)
I have a litter of CKC Dachshund puppies that were born on 9/11/16 and will be ready to go around 10/23/16. They will leave with 1st shots , wormings, a written Health Guarantee and a puppy starter pack. Prices are $400.00 to $500.00. Now taking deposits of $100.00 to hold one for you. Call for more info Home # 337-463-2256 or call or text cell # 337-401-7395 Thanks

(If a larger resolution of the image is available, click here or on the pic to the right to display it)






From: Annette - click here to contact, Deridder, La
Fraud check: From where was this ad posted?
Ad Number 253, Category: Pets/Livestock
Report Ad to moderators Tue Sep 20 09:30:33 2016 GMT - (544.04 days old)
I have 2 female Shorkie's that are ready to go . They will leave with 2nd shots , wormings, a written health guarantee and a puppy starter pack. They are very sweet and love to play . Should be around 5 to 7 lbs grown according to the growth chart. $500.00 Cash Only Please ! call home # 337-463- 2256 or cell # 337-401-7395

(If a larger resolution of the image is available, click here or on the pic to the right to display it)






From: Annette - click here to contact, Deridder, La
Fraud check: From where was this ad posted?
Ad Number 252, Category: Pets/Livestock
Report Ad to moderators Mon Sep 19 15:29:11 2016 GMT - (544.79 days old)
***Shady Lady*** is a black/rust female Min Pin. She was born on 07/24/16, is current on shots, wormed, tail docked and dewclaws removed. Will sell with her puppy papers for registration. Can meet buyer in Shreveport. http://www.runningridge.com Call/Text Nancy at 430-200-8170 Cash only at time of pick up.

(If a larger resolution of the image is available, click here or on the pic to the right to display it)






From: Nancy - click here to contact, Fouke, Ar
Fraud check: From where was this ad posted?
Ad Number 251, Category: Pets/Livestock
Report Ad to moderators Sat Sep 17 15:54:25 2016 GMT - (546.78 days old)
~~~Bang Bang~~~ is a black/tan male Miniature Pinscher. Born on 06/24/14 ... has his tail docked, dewclaws removed, current on shots and wormed. Will come with his puppy papers for registration. Can meet buyer in Shreveport. Cash only at time of pick up. Call/Text Nancy at 430-200-8170

(If a larger resolution of the image is available, click here or on the pic to the right to display it)






From: Nancy - click here to contact, Fouke, Ar
Fraud check: From where was this ad posted?
Ad Number 250, Category: Pets/Livestock
Report Ad to moderators Sat Sep 17 15:51:55 2016 GMT - (546.78 days old)
Meet "Marilyn" - she is a gorgeous, very flashy female Miniature Pinscher in the gorgeous black/tan merle pattern. HPA puppy papers for registration. Current on shots, wormed, tail docked and dewclaws removed. http://www.runningridge.com Can meet buyer in Shreveport. Cash only at time of pick up. Call/Text Nancy at 430-200-8170

(If a larger resolution of the image is available, click here or on the pic to the right to display it)






From: Nancy - click here to contact, Fouke, Ar
Fraud check: From where was this ad posted?
Ad Number 249, Category: Pets/Livestock
Report Ad to moderators Sat Sep 17 15:47:37 2016 GMT - (546.78 days old)
"Dark Lady" is a black/tan female Miniature Pinscher. Sweet as can be! Born on 06/24/16 - current on shots, wormed, tail docked and dewclaws removed. Puppy Papers for registration. Can meet buyer in Shreveport. $650.00 cash only at time of pick up. http://www.runningridge.com Call/Text Nancy at 430-200-8170

(If a larger resolution of the image is available, click here or on the pic to the right to display it)






From: Nancy - click here to contact, Fouke, Ar
Fraud check: From where was this ad posted?
Ad Number 248, Category: Pets/Livestock
Report Ad to moderators Sat Sep 17 15:45:08 2016 GMT - (546.78 days old)
We have an adult female pom "Maggie" available to a pet or breeder home. She is a Beaver or Orange variant. She just weaned her first litter of pups and was an awesome mom of 3 white babies and one parti. We are parting with her simply because we are no longer going to breed poms and will be focusing on maltese, poodles and French bulldogs only. Interested parties, please text me at 601-810-0142. Photos will be available over the weekend. THANKS





From: stephanie wilson - click here to contact, Gloster, Ms
Fraud check: From where was this ad posted?
Ad Number 247, Category: Pets/Livestock
Report Ad to moderators Fri Sep 16 13:33:11 2016 GMT - (547.87 days old)
12 y/o Paint Mare. She's very sweet. Will walk up to you in field. Takes a minute to get use to water. My daughter & other family members has rode her. I just bought her & she's a little too much for my kids. Needs a experienced rider. She's gaited , got negative coggins and just been wormed this month. Price $300.00

(If a larger resolution of the image is available, click here or on the pic to the right to display it)






From: Tisha - click here to contact, Loranger, La
Fraud check: From where was this ad posted?
Ad Number 246, Category: Pets/Livestock
Report Ad to moderators Thu Sep 15 08:21:34 2016 GMT - (549.09 days old)
I have 2 female Shorkie's that are ready to go . They will leave with 1st shots , wormings, a written health guarantee and a puppy starter pack. They are very sweet and love to play . Should be around 5 lbs grown according to the growth chart. $650.00 Now take an additional $50.00 this weekend making them $600.00 each Cash Only Please ! call home # 337-463-2256 or cell # 337-401-7395

(If a larger resolution of the image is available, click here or on the pic to the right to display it)






From: Annette - click here to contact, Deridder, La
Fraud check: From where was this ad posted?
Ad Number 243, Category: Pets/Livestock
Report Ad to moderators Fri Sep 9 09:14:20 2016 GMT - (555.05 days old)
"""Trixie""" is a black/tan merle female Harlequin Pinscher. She is ready now for a forever loving home. Priced at $800.00. She is current on shots, wormed, microchipped, tail docked and dewclaws removed. Can meet buyer in Shreveport. Call/Text Nancy at 430-200-8170

(If a larger resolution of the image is available, click here or on the pic to the right to display it)






From: Nancy - click here to contact, Fouke, Ar
Fraud check: From where was this ad posted?
Ad Number 239, Category: Pets/Livestock
Report Ad to moderators Wed Aug 31 14:10:11 2016 GMT - (563.85 days old)
"Deeks" is a black/tan merle male Harlequin Pinscher. He is ready now for a forever loving home to call his own. Current on shots, wormed, microchipped, tail docked and dewclaws removed. Can meet puppy buyer in Shreveport. http://www.runningridge.com Call/Text Nancy at 430-200-8170 Priced at $750.00

(If a larger resolution of the image is available, click here or on the pic to the right to display it)






From: Nancy - click here to contact, Fouke, Ar
Fraud check: From where was this ad posted?
Ad Number 238, Category: Pets/Livestock
Report Ad to moderators Wed Aug 31 14:06:26 2016 GMT - (563.85 days old)
Dark Lady is a black/tan female Min Pin priced at $650.00. She is current on shots, wormed, microchipped, tail docked and dewclaws removed. http://www.runningridge.com Ready for a new forever loving home now. Can meet puppy buyer in Shreveport. Call/Text Nancy at 430-200-8170

(If a larger resolution of the image is available, click here or on the pic to the right to display it)






From: Nancy - click here to contact, Fouke, Ar
Fraud check: From where was this ad posted?
Ad Number 237, Category: Pets/Livestock
Report Ad to moderators Wed Aug 31 14:01:08 2016 GMT - (563.86 days old)
*~*Mort*~* is a brown/tan merle male Harlequin Pinscher. He is ready now for a forever loving home. He is priced at $750.00, current on shots, wormed, microchipped, tail docked and dewclaws removed. Can meet buyer in Shreveport. Call/Text Nancy at 430-200-8170

(If a larger resolution of the image is available, click here or on the pic to the right to display it)






From: Nancy - click here to contact, Fouke, Ar
Fraud check: From where was this ad posted?
Ad Number 236, Category: Pets/Livestock
Report Ad to moderators Wed Aug 31 13:57:14 2016 GMT - (563.86 days old)
~ ~ Red Dawn ~ ~ is a Red Merle/Piebald female Rat Terrier. She will be ready for a new home on 10/04/16. She will leave our care current on shots, wormed and microchipped. She has her tail docked and dewclaws removed. http://www.runningridge.com Call/Text Nancy at 430-200-8170 ... I can meet puppy buyer in Shreveport.

(If a larger resolution of the image is available, click here or on the pic to the right to display it)






From: Nancy - click here to contact, Fouke, Ar
Fraud check: From where was this ad posted?
Ad Number 235, Category: Pets/Livestock
Report Ad to moderators Wed Aug 31 13:52:32 2016 GMT - (563.86 days old)
~~~Senator~~~ is a Red Merle male Rat Terrier. He will be ready for a new home on 10/04/16. He is priced at $500.00. I can meet a buyer in Shreveport. He has had his tail docked and dewclaws removed. He will be current on shots, wormed and microchipped. http://www.runningridge.com Call/Text Nancy at 430-200-8170

(If a larger resolution of the image is available, click here or on the pic to the right to display it)






From: Nancy - click here to contact, Fouke, Ar
Fraud check: From where was this ad posted?
Ad Number 234, Category: Pets/Livestock
Report Ad to moderators Wed Aug 31 13:49:24 2016 GMT - (563.86 days old)
"Knight" is a black/tan piebald male Rat Terrier. He will be ready for a new home on 10/04/16. He will have his first set of shots, wormed and microchipped. He has already had his tail docked and dewclaws removed. http://www.runningridge.com Can meet buyer in Shreveport. Call/Text Nancy at 430-200-8170

(If a larger resolution of the image is available, click here or on the pic to the right to display it)






From: Nancy - click here to contact, Fouke, Ar
Fraud check: From where was this ad posted?
Ad Number 233, Category: Pets/Livestock
Report Ad to moderators Wed Aug 31 13:46:09 2016 GMT - (563.87 days old)
I have 2 female Shorkie's that are ready to go . They will leave with 1st shots , wormings, a written health guarantee and a puppy starter pack. They are very sweet and love to play . Should be around 5 lbs grown according to the growth chart. $650.00 each Cash Only Please ! call home # 337-463-2256 or cell # 337-401-7395

(If a larger resolution of the image is available, click here or on the pic to the right to display it)






From: Annette - click here to contact, Deridder, La
Fraud check: From where was this ad posted?
Ad Number 232, Category: Pets/Livestock
Report Ad to moderators Wed Aug 31 11:55:31 2016 GMT - (563.94 days old)
AKC Euro line French Bulldog puppy. Excellent quality blue fawn from a long line of blues and other odd colors. Completed all vaccinations, vet checked, and comes with a written health guarantee. Current dewormings. Raised indoors under foot; bottle fed. $3,500. Price includes LIMITED AKC. Full AKC available for $4,500. Serious inquiries only, please. Video and more photos available. Please email or text only 601-810-0142. Pick up in Kentwood, Clinton, or Ferriday.

(If a larger resolution of the image is available, click here or on the pic to the right to display it)






From: stephanie wilson - click here to contact, Gloster, Ms
Fraud check: From where was this ad posted?
Ad Number 230, Category: Pets/Livestock
Report Ad to moderators Wed Sep 14 11:15:45 2016 GMT - (549.97 days old)
This little girl is waiting to fill someone's home with a lot of joy. She is 6 weeks old, AKC Registered and will come up to date on shots and de-wormings. She will also come with her registration, vet check, 1 yr health guarantee, a puppy basket filled with lots of goodies including food, toys, blanket, etc. She comes from champion bloodlines from both parents. Her mom is 4.5lbs and dad is 3lbs. She loves to play and give lots of kisses. Her price is $2500 with a deposit to hold her. Payment plans are also available. She will be ready for her new home at 12 weeks of age. I put a lot of time and effort into the care of my babies and want them to have nothing but the best. Located in Ferriday, LA. Shipping is available with a lap nanny to your nearest airport at an additional cost or I could meet you with a reasonable distance. For more information, please call or text 318-421-9554. I would be more than happy to show more pics or provide any information needed.

(If a larger resolution of the image is available, click here or on the pic to the right to display it)






From: Denikka - click here to contact, Ferriday, La
Fraud check: From where was this ad posted?
Ad Number 225, Category: Pets/Livestock
Report Ad to moderators Sun Aug 28 10:30:51 2016 GMT - (567.00 days old)
If you are looking for a little cuddle buddy, then this little guy is the one for you. He is 6 weeks old, AKC Registered and will come up to date on shots and de-wormings. He will also come with his registration, vet check, 1 yr health guarantee, a puppy basket filled with lots of goodies including food, toys, blanket, etc. He comes from champion bloodlines from both parents. His mom is 4.5lbs and dad is 3lbs. This baby will be very tiny. His price is $2500 with a deposit to hold him. Payment plans are also available. He will be ready for his new home at 12 weeks of age depending on how well he does after weaning. I put a lot of time and effort into the care of my babies and want them to have nothing but the best. Located in Ferriday, LA. Shipping is available with a lap nanny to your nearest airport at an additional cost or I could meet you with a reasonable distance. For more information, please call or text 318-421-9554. I would be more than happy to show more pics or provide any information needed.

(If a larger resolution of the image is available, click here or on the pic to the right to display it)






From: Denikka - click here to contact, Ferriday, La
Fraud check: From where was this ad posted?
Ad Number 224, Category: Pets/Livestock
Report Ad to moderators Sun Aug 28 10:12:50 2016 GMT - (567.01 days old)
akc cavalier king charles spaniel, 2 males 1 tri n 1 blenheim. 8wks old, they r utd on shots n worming, bortadella n albon gived, they will come with a health check. father is my agility n conformation dog, he has won best in show 2x in the international ring. i have vet reference. can meet. call 337-853-3201 for further questions. thxs

(If a larger resolution of the image is available, click here or on the pic to the right to display it)






From: doris anderson - click here to contact, starks
Fraud check: From where was this ad posted?
Ad Number 220, Category: Pets/Livestock
Report Ad to moderators Fri Aug 26 13:25:48 2016 GMT - (568.88 days old)
Beautiful dark apricot maltipoo baby girl from champion lineage. Health guarantee, puppy care kit, shots/dewormings, vet check, and 24/7 support. Estimated adult size of 8 to 12 pounds. Perfect pup for a family with children. 25 years worth of references. Must pick up in Kentwood, Ferriday or Clinton. $1,200 cash. Deposit will hold until she ready to go in a few weeks. email or text only 601-810-0142 (I cannot answer calls at work)

(If a larger resolution of the image is available, click here or on the pic to the right to display it)






From: stephanie wilson - click here to contact, Gloster, Ms
Fraud check: From where was this ad posted?
Ad Number 219, Category: Pets/Livestock
Report Ad to moderators Tue Aug 30 10:38:25 2016 GMT - (565.00 days old)
akc cavalier king charles spaniel. 2 males available 1 tri n 1 blenheim. they r 8wks old n ready to go. is utd on shots n worming, bortedalla n albon given. will have a health check b 4 they go to their new homes. father is my agility n conformation dog, winning best in show 2x in the international ring. i have vet reference please call me with n e questions at 337-853-3201 thxs

(If a larger resolution of the image is available, click here or on the pic to the right to display it)






From: doris anderson - click here to contact, starks
Fraud check: From where was this ad posted?
Ad Number 217, Category: Pets/Livestock
Report Ad to moderators Thu Aug 25 19:57:22 2016 GMT - (569.61 days old)
2 gorgeous Great Pyreenes female puppies. These have been raised with Goats, Sheep and Cows. They are not pets. ACR registered. We sold half our Sheep herd so these girls are without a job. Pyreenes do better in pairs but will sell separately. 450.00 each or 750.00 for pair. These are a working pair. Call/ Text Nancy at 430-200-8170

(If a larger resolution of the image is available, click here or on the pic to the right to display it)






From: Nancy Anderson - click here to contact, Texarkana
Fraud check: From where was this ad posted?
Ad Number 206, Category: Pets/Livestock
Report Ad to moderators Wed Aug 17 16:51:03 2016 GMT - (577.74 days old)
I have three female parti poodles for sale. One is 10 weeks old and chocolate and white for $800. The other two are 5 weeks old and are black and white for $800. The 5 week olds will be ready in 2-3 weeks. They are UTD on shots and worming. They are CKC registered. They will come with a shot record and health guarantee. If you are interested I can send pictures. It will not allow me to add pictures. You can reach me at (601)303-7253. If you call and no one answers please leave a voicemail. There are times, because of where I live, that missed calls do not show up. I look forward to hearing from you.





From: Cyndal Pigott - click here to contact, Kokomo, Ms
Fraud check: From where was this ad posted?
Ad Number 205, Category: Pets/Livestock
Report Ad to moderators Wed Aug 17 14:44:31 2016 GMT - (577.83 days old)
I have two 10 week old male Maltizus for sale. I am asking $500 each for them. One is solid white and the other is black and white. They are UTD on all of their shots and worming. If you are interested I can send you pictures. It would not allow me to add pictures. You can reach me at (601)303-7253. If no one answers please leave a voicemail or text. There are times, because of where I live, that missed calls do not show up. I look forward to hearing from you.





From: Cyndal Pigott - click here to contact, Kokomo, Ms
Fraud check: From where was this ad posted?
Ad Number 204, Category: Pets/Livestock
Report Ad to moderators Wed Aug 17 14:32:20 2016 GMT - (577.83 days old)
I have a white black parti male $1800 I also have a white chocolate parti female $2000 all includes vet check microchip ears crop tail doc de claws removed. You will get weekly pictures n video of your pup they are raised in a loving home with two small children handle Dailey. Shot record include also fully akc papers. Will be start wormer at 2 weeks old. More info contact deposit to hold till ready Oct 12th also welcome to meet parents.. 6017545769 babies will be 6-7lbs full grown





From: Barbara - click here to contact, Jayess, Ms
Fraud check: From where was this ad posted?
Ad Number 203, Category: Pets/Livestock
Report Ad to moderators Tue Aug 16 14:56:21 2016 GMT - (578.82 days old)
First generation maltipoo baby girl. Beautiful coat. Current shots/dewormings. Health guarantee. Ready to go. Great personality. None shedding and hypoallergenic. Perfect kids dog. Estimated adult weight of 8 to 12 pounds. $850 cash. Pickup in Kentwood, Clinton or Ferriday. Please email or text only 601-810-0142 (I can't take calls at work).

(If a larger resolution of the image is available, click here or on the pic to the right to display it)






From: stephanie wilson - click here to contact, Gloster, Ms
Fraud check: From where was this ad posted?
Ad Number 202, Category: Pets/Livestock
Report Ad to moderators Tue Aug 16 13:16:41 2016 GMT - (578.89 days old)
Beautiful first generation maltipoo female. Creamy white in color. Current shots/dewormings. Health guarantee. Ready to go. Great personality. None shedding and hypoallergenic. Perfect kids dog. Estimated adult weight of 8 to 12 pounds. $850 cash. Pickup in Kentwood, Clinton or Ferriday. Please email or text only 601-810-0142 (I can't take calls at work).

(If a larger resolution of the image is available, click here or on the pic to the right to display it)






From: stephanie wilson - click here to contact, Gloster, Ms
Fraud check: From where was this ad posted?
Ad Number 201, Category: Pets/Livestock
Report Ad to moderators Tue Aug 16 13:01:10 2016 GMT - (578.90 days old)
Born on July 8th, 2016 (can't sell him to you until he is older) He is currently eating soft food. His mom is brown/black, weighs 6 pounds, and isn't registered. His dad is black, weighs 8 pounds, is AKC registered and comes from a bloodline that produces chocolate, white, black, spotted, and silver colors. I can send pictures of the parents and more pictures of the puppy upon request. A deposit is an option of $150 or more before and the rest when picked up. Total amount is $300. You don't have to do a deposit you can just pay in full at the time of pick up. Please text cell phone or email. No calls on weekdays until after 5pm

(If a larger resolution of the image is available, click here or on the pic to the right to display it)






From: Janie Cordova - click here to contact, West Monroe, La
Fraud check: From where was this ad posted?
Ad Number 200, Category: Pets/Livestock
Report Ad to moderators Mon Aug 15 11:39:44 2016 GMT - (579.95 days old)
I have a Female CKC Shorkie that is ready to go. She will leave with 3RD shots , wormings, a written Health Guarentee and a puppy starter pack. She is very sweet and playful. She is now $450.00 CKC registered. CASH only !!!!!!! Call for more info Home # 337-463-2256 or call or text Cell # 337-401-7395 Thanks

(If a larger resolution of the image is available, click here or on the pic to the right to display it)






From: Annette - click here to contact, Deridder, La
Fraud check: From where was this ad posted?
Ad Number 191, Category: Pets/Livestock
Report Ad to moderators Fri Aug 12 08:54:07 2016 GMT - (583.07 days old)
Duke is a 8 month old male shar pei looking to be rehomed . He is very playful and loving and absolutely loves kids . He is great with cats and other dogs . Although very playful he isn't hyper nor is he rough when playing. He is house broke but does not like to be left at home alone. He loves lots of attention and he needs a family that can give him that . If interested please contact me . Only serious inquiries only.

(If a larger resolution of the image is available, click here or on the pic to the right to display it)






From: Randell R Duncan - click here to contact, Walker
Fraud check: From where was this ad posted?
Ad Number 188, Category: Pets/Livestock
Report Ad to moderators Tue Aug 9 15:14:04 2016 GMT - (585.80 days old)
7 weeks old, double registered, males and females available, coat colors: dark blue, fawn blue, tricolored, and fawn, Prices start at $600.00 and vary depending on color. Call or text (985)205-0788





From: Scooter - click here to contact, Franklinton, La
Fraud check: From where was this ad posted?
Ad Number 184, Category: Pets/Livestock
Report Ad to moderators Mon Aug 8 07:35:06 2016 GMT - (587.12 days old)
I have 2 beautiful chocolate lab puppies. 1 male & 1 female. The father is a full blooded yellow lab and the mother is a black lab/golden retriever mix. They were born on July 25th. They won't have their first set of shots, but they will be dewormed. The mother & father love the water, chasing ducks and fetching (never been trained to hunt). I think if trained they would make great hunting dogs. They do have a small white patch on their chest (it's not uncommon, you can google it) I'm not a breeder, my male and female were separated until my son decided to put them together. I'm asking 250.00 ea. or 400.00 for both. If you are interested please contact me and I'll text you pictures. (Serious inquiries only)





From: Monica Gros - click here to contact, New Iberia, La
Fraud check: From where was this ad posted?
Ad Number 181, Category: Pets/Livestock
Report Ad to moderators Sun Aug 7 00:16:38 2016 GMT - (588.43 days old)
I have 1 red male pup. This is him pictured. He looks bigger in the picture but he is not. I have 1 red female pup. They are both $350 each CKC reg. Up to date on shots and worming. Call or text about them today 318/331-0088. Can meet a little ways if needed. Started them on the puppy pads.

(If a larger resolution of the image is available, click here or on the pic to the right to display it)






From: kathy - click here to contact, West Monroe, La
Fraud check: From where was this ad posted?
Ad Number 175, Category: Pets/Livestock
Report Ad to moderators Mon Aug 1 18:41:47 2016 GMT - (593.66 days old)
Hello, I have 2 yorkies . A male and female. They are 13 weeks old. They are up to date on shots and dewormings. Have been seen by vet. Asking $200 for male and $200 for female. Looking for good pet homes for each of them. Willing to meet within reason. New Orleans, LA. For any questions, please call or text 504-666-9132. Thanks

(If a larger resolution of the image is available, click here or on the pic to the right to display it)






From: Osia - click here to contact, New Orleans, La
Fraud check: From where was this ad posted?
Ad Number 173, Category: Pets/Livestock
Report Ad to moderators Sun Jul 31 10:00:30 2016 GMT - (595.02 days old)
We have 1 Female Pomeranian Puppy that is now available for her forever home. She will come with a written health Guarantee and a puppy starter pack that has her CKC paper work, a sample of her food, her food bowl, her toy, ect. She is up to date on her vaccination and Deworming for her age and will come with her vaccination records. She has been raised with children & other dogs.$500. Located in Hammond, Louisiana.

(If a larger resolution of the image is available, click here or on the pic to the right to display it)






From: Theresa - click here to contact, Hammond, La
Fraud check: From where was this ad posted?
Ad Number 172, Category: Pets/Livestock
Report Ad to moderators Sun Jul 31 09:56:13 2016 GMT - (595.03 days old)
akc cavalier king charles spaniel puppies, males n females,tris n blenheims. they will come to u utd on shots n worming, they r on a dha program proven to make a dog 60% smarter. their father is my agility n conformation dog. he is titled in agility n is international champion winning best in show 2x. i have vet reference. these puppies r looking for loving pet homes. please call me at 337-853-3201 for prices, please specify male or female n which color. thank u

(If a larger resolution of the image is available, click here or on the pic to the right to display it)






From: doris anderson - click here to contact, starks
Fraud check: From where was this ad posted?
Ad Number 170, Category: Pets/Livestock
Report Ad to moderators Fri Jul 29 10:28:52 2016 GMT - (597.00 days old)
This blue/white girl($600) and black w/white markings boy($500) are waiting for deposits to hold until they are ready to go. Deposits are half the pup you chosen price & are non-refundable. Mom is 7lbs & dad 3lbs. Each pup will come w/1 year written health guarantee, about 2 weeks of food, age appropriate s/w w/records. D.O.B. is 7/22/16. please call or text for pics or more info!!





From: ashley - click here to contact, Kenner, La
Fraud check: From where was this ad posted?
Ad Number 168, Category: Pets/Livestock
Report Ad to moderators Thu Jul 28 17:51:34 2016 GMT - (597.70 days old)
This little guy is ready to join his new family. His DOB is 4/25/16 He is as sweet as they come and has had plenty extra special care from the day he was born. I would like to keep him local so I'm only asking $650 for him. He is very tiny and charting around 3 1/2 lbs grown. Both parents are Akc reg'd and on site. He will come with registration papers, vet certificate of health and current on vaccines/wormings. Call Christi 225-975-6764

(If a larger resolution of the image is available, click here or on the pic to the right to display it)






From: christi comeaux - click here to contact, Denham Springs, La
Fraud check: From where was this ad posted?
Ad Number 166, Category: Pets/Livestock
Report Ad to moderators Wed Jul 27 20:25:11 2016 GMT - (598.59 days old)
I have a brother sister pair of basset hound puppies I need to rrehome. They are UKC registered,12 weeks old, vet checked, and up to date on vaccinations. They are kennel and puppy pad trained. I just found out my schedule has been changed and they will be alone for long hours. I am asking $200 for both but need them to go ASAP to a good home and will negotiate on price.

(If a larger resolution of the image is available, click here or on the pic to the right to display it)






From: Sarah - click here to contact, Converse, La
Fraud check: From where was this ad posted?
Ad Number 165, Category: Pets/Livestock
Report Ad to moderators Tue Jul 26 09:22:26 2016 GMT - (600.05 days old)
Offering two little precious male shih tzu puppies available. They are just adorable little guys : ) These little sweeties are ready for their Fur-Ever new homes. They will also come with registration papers, shot records, genetic health guarantee and of course, pre-spoiled! If you are within driving distance, you are more than welcome to come pick any of these little ones up.. but we can also arrange delivery. Please let me know if you are interested.

(If a larger resolution of the image is available, click here or on the pic to the right to display it)






From: Radiq - click here to contact, Acme, La
Fraud check: From where was this ad posted?
Ad Number 160, Category: Pets/Livestock
Report Ad to moderators Sun Jul 24 10:37:25 2016 GMT - (602.00 days old)
#Read Entire Ad Before Contacting!# I have Four French bulldog Pups AKC Registered First vaccines & up to date deworming Size! 18-5 Pounds Full Grown! 3 Females $ Each, Female all Black/darl color! 1 Male $ Fourth Pic Is Male! That is Only Pics Available! Cash Only Checks Will Not Be Accepted! Prices Are Firm So Please Do Not Ask for a discount%! Text us at 240-233-6924

(If a larger resolution of the image is available, click here or on the pic to the right to display it)






From: klienkeys - click here to contact, Alexandria, La
Fraud check: From where was this ad posted?
Ad Number 157, Category: Pets/Livestock
Report Ad to moderators Sat Jul 23 17:45:29 2016 GMT - (602.70 days old)
I have a Female CKC Shorkie that is ready to go. She will leave with 3RD shots , wormings, a written Health Guarentee and a puppy starter pack. She is very sweet and playful. She is $550.00 CKC registered. CASH only !!!!!!! Call for more info Home # 337-463-2256 or call or text Cell # 337-401-7395 Thanks

(If a larger resolution of the image is available, click here or on the pic to the right to display it)






From: Annette - click here to contact, Deridder, La
Fraud check: From where was this ad posted?
Ad Number 155, Category: Pets/Livestock
Report Ad to moderators Sat Jul 23 08:40:38 2016 GMT - (603.08 days old)
Maltipoo puppies 275-300, text for pic and more information, 318-381-4088 ,,,,also have one shihpoo male puppy left for 200,





From: Lynn - click here to contact, Monroe, La
Fraud check: From where was this ad posted?
Ad Number 150, Category: Pets/Livestock
Report Ad to moderators Sun Jul 17 12:29:38 2016 GMT - (608.92 days old)
Professional LIVE MUSIC services for your event. Weddings, Parties, Special occasions. Corporate events, Family reunions, Formal dinners, Proposals, Vow renewals. Indoors/Outdoors. Violin, Cello, Harp, Flute, Trumpet, Solo, Duet, Trio, String Quartet, Singer, Piano, Organ and more! Affordable and unsurpassed performance quality for every budget. We travel everywhere. Book early to reserve availability: ph: 504-931-5450 info@fineartsensemble.com http://www.fineartsensemble.com

(If a larger resolution of the image is available, click here or on the pic to the right to display it)






From: Dimitri - click here to contact, New Orleans, La
Fraud check: From where was this ad posted?
Ad Number 148, Category: Services - Professional (non-Internet)
Report Ad to moderators Fri Jul 15 17:03:48 2016 GMT - (610.73 days old)
Commercial Property with Home 2100 sq ft 4 bedroom 2 bath flood damaged. All affected areas has been gutted of sheetrock. Shop 2400 sq ft, inground pool - needs a new liner. Walker, Louisiana 70785 0.83 of an acre 511 ft of Interstate frontage located right on the Walker off ramp Great Investment Opportunity!!!! Visible to Interstate I-12 Right Next to two major hotels and a ton of Prime businesses Call for more information: 479-885-0587 or 225-921-6115 $150,000





From: JB Rhodus - click here to contact, Walker
Fraud check: From where was this ad posted?
Ad Number 144, Category: Real Estate - Residences for sale
Report Ad to moderators Mon Oct 17 19:53:33 2016 GMT - (516.61 days old)
Hello, I have 2 yorkies mixes. A male and female. They are 10 weeks old. They are up to date on shots and dewormings. Have been seen by vet. Asking $400 for male and $500 for female. Looking for good pet homes for each of them. Willing to meet within reason. Located in Ferriday, LA. For any questions, please call or text 318-758-0506. Thanks

(If a larger resolution of the image is available, click here or on the pic to the right to display it)






From: Henry - click here to contact, Ferriday, La
Fraud check: From where was this ad posted?
Ad Number 143, Category: Pets/Livestock
Report Ad to moderators Tue Jul 12 16:47:28 2016 GMT - (613.74 days old)
^Tumbleweed^ is a black/tan piebald male Biewer Yorkie. BYA registered and bred by the original USA importer of Biewer Yorkies. http://www.runningridge.com $1500.00 firm - cash only. Can meet buyer in Shreveport. Current on shots, wormed, tail docked and dewclaws removed. Call/Text Nancy at 430-200-8170

(If a larger resolution of the image is available, click here or on the pic to the right to display it)






From: Nancy - click here to contact, Texarkana
Fraud check: From where was this ad posted?
Ad Number 139, Category: Pets/Livestock
Report Ad to moderators Mon Jul 11 17:35:39 2016 GMT - (614.71 days old)
*~* Miki *~* is a brown/tan male Miniature Pinscher Puppy. He was born on 04/28/16 and weighed in at 5.2# on 07/11/16. He is current on shots, wormed, microchipped, tail docked and dewclaws removed. Smart as a whip!!!! 72 hour well puppy check up guarantee. We can meet a buyer in Shreveport. http://www.runningridge.com He is priced at $600.00 (*cash only). Call/Text Nancy at 430-200-8170

(If a larger resolution of the image is available, click here or on the pic to the right to display it)






From: Nancy - click here to contact, Texarkana
Fraud check: From where was this ad posted?
Ad Number 138, Category: Pets/Livestock
Report Ad to moderators Mon Jul 11 17:29:59 2016 GMT - (614.71 days old)
~WOW~ talk about drop dead gorgeous. Blue Wave Rider is a very unique blue/tan dilute merle male Harlequin Pinscher. Curent on shots, wormed, tail docked and dewclaws removed. Microchipped with a 72 hour well puppy check up guarantee. Call/Text Nancy at 430-200-8170 http://www.runningridge.com

(If a larger resolution of the image is available, click here or on the pic to the right to display it)






From: Nancy - click here to contact, Texarkana
Fraud check: From where was this ad posted?
Ad Number 137, Category: Pets/Livestock
Report Ad to moderators Mon Jul 11 17:26:20 2016 GMT - (614.71 days old)
~ ~ ~ Karla ~ ~ ~ is a black/tan female Miniature PInscher. Priced at $650.00 - is current on shots, wormed, microchipped, tail docked and dewclaws removed. 72 hour well puppy check up guarantee. Can meet buyer in Shreveport. http://www.runningridge.co Call/TExt Nancy at 430-200-8170

(If a larger resolution of the image is available, click here or on the pic to the right to display it)






From: Nancy - click here to contact, Texarkana
Fraud check: From where was this ad posted?
Ad Number 136, Category: Pets/Livestock
Report Ad to moderators Mon Jul 11 17:23:36 2016 GMT - (614.71 days old)
L**KY L**KY L**KY - "Fantasia" is a black/tan merle female Harlequin Pinscher (*fancy Min Pin). She is priced at $800.00 (*cash only), is current on shots, wormed, microchipped, tail docked and dewclaws removed. Can meet buyer in Shreveport. HPA registered. Call/Text Nancy at 430-200-8170

(If a larger resolution of the image is available, click here or on the pic to the right to display it)






From: Nancy - click here to contact, Texarkana
Fraud check: From where was this ad posted?
Ad Number 135, Category: Pets/Livestock
Report Ad to moderators Mon Jul 11 17:21:11 2016 GMT - (614.72 days old)
MI-KI PUPPY Very nice little puppy. Many wish they were this pretty!! A very tiny boy, unusual color. Asking $600 DOB April 26th 2016 Certified Pet Kennel Club Reg. Up to date on shots and worming. LOCATED IN THE MONROE AREA 318 680 2100 or gone4doggie@yahoo.com thanks Gloria

(If a larger resolution of the image is available, click here or on the pic to the right to display it)






From: gloria - click here to contact, Downsville, La
Fraud check: From where was this ad posted?
Ad Number 130, Category: Pets/Livestock
Report Ad to moderators Mon Jul 4 17:49:09 2016 GMT - (621.70 days old)
I am selling out of my chickens. Rhode island reds 15$ Barred rocks 15$ Easter egger / amerucanas 20$ Buff polish / top hat chickens 20$ calico cochin bantams 25$ Chocolate English Orphington roo 20$ Cuckoo english orpington roo 35$ African grey geese 25$ Blue slate turkey poults 20$ Text or call twotwo5 22zero one0one3

(If a larger resolution of the image is available, click here or on the pic to the right to display it)






From: Haley - click here to contact, Maurepas
Fraud check: From where was this ad posted?
Ad Number 129, Category: Pets/Livestock
Report Ad to moderators Mon Jul 4 17:42:31 2016 GMT - (621.70 days old)
SHIH-POM (half shih-tzu and half Pom) Very, very tiny boy babie!! He loves to be held. Just a real little bitty cutie pie. DOB april 21st 2016. Certified Pet Kennel Club Reg. Up to date on shots and worming. Asking $400. LOCATED IN THE MONROE AREA Call 318 680 2100 or gone4doggie@yahoo.com thanks Gloria

(If a larger resolution of the image is available, click here or on the pic to the right to display it)






From: gloria - click here to contact, Downsville, La
Fraud check: From where was this ad posted?
Ad Number 128, Category: Pets/Livestock
Report Ad to moderators Sun Jul 10 14:56:49 2016 GMT - (615.82 days old)
i have chocolate and yellow labs males and females both from champion bloodlines taking deposits now to hold your pick pups will be ready around first week of august price ranges between 400-550 and your deposit goes towards the total will be up to date on worming and shots have dewclaws removed and six week vet checks as well text 3372180609 for more pic pedigrees and info thanks and god bless





From: elizabeth - click here to contact, jennings
Fraud check: From where was this ad posted?
Ad Number 121, Category: Pets/Livestock
Report Ad to moderators Sun Jul 3 15:46:11 2016 GMT - (622.78 days old)
This little puppies are absolutely adorable! This litter is very well socialized and come with a GOOD personality.They are up to date on all their shots and worming.They do come with a health guarantee, all their shot records and a Joyful spirit.These puppies have been raised in GOOD,Christian,LOVING homes.We breed for quality and good temperament.If you\'re at all interested in a puppy ,you\'re more than welcome to contact for more info and pics..





From: james pepsi - click here to contact, New Orleans, La
Fraud check: From where was this ad posted?
Ad Number 120, Category: Pets/Livestock
Report Ad to moderators Sun Jul 3 13:30:36 2016 GMT - (622.88 days old)
I have 2 Male and 1 female CKC Malti-Tzu puppies that are ready to go. They will leave with 2nd shots , wormings, a written Health Guarentee and a puppy starter pack. They are very sweet and playful. They are $700.00 CKC registered. This weekend only take an additional $50.00 off ****) CASH only !!!!!!! Call for more info Home # 337-463-2256 or call or text Cell # 337-401-7395 Thanks

(If a larger resolution of the image is available, click here or on the pic to the right to display it)






From: Annette - click here to contact, Deridder, La
Fraud check: From where was this ad posted?
Ad Number 117, Category: Pets/Livestock
Report Ad to moderators Fri Jul 1 10:10:46 2016 GMT - (625.02 days old)
I have a Female CKC Shorkie that is ready to go. She will leave with 2nd shots , wormings, a written Health Guarentee and a puppy starter pack. She is very sweet and playful. She is $700.00 CKC registered. This weekend only take an additional $100.00 off ****) CASH only !!!!!!! Call for more info Home # 337-463-2256 or call or text Cell # 337-401-7395 Thanks

(If a larger resolution of the image is available, click here or on the pic to the right to display it)






From: Annette - click here to contact, Deridder, La
Fraud check: From where was this ad posted?
Ad Number 116, Category: Pets/Livestock
Report Ad to moderators Fri Jul 1 09:35:54 2016 GMT - (625.04 days old)
I have a litter of CKC Pekingese puppies( 1 fawn female and 1 fawn male) that are ready to go. They will leave with 2nd shots , wormings, a written Health Guarentee and a puppy starter pack. They arre very sweet and playful. They are $700.00 and $1000.00 Now take an additional $100.00 off this weekend only CKC registered.. CASH only !!!!!!! Call for more info Home # 337-463-2256 or call or text Cell # 337-401-7395 Thanks

(If a larger resolution of the image is available, click here or on the pic to the right to display it)






From: Annette - click here to contact, Deridder, La
Fraud check: From where was this ad posted?
Ad Number 115, Category: Pets/Livestock
Report Ad to moderators Fri Jul 1 09:17:25 2016 GMT - (625.05 days old)
I have 3 adult Toy poodles for sale. I have 2 adults females and 1 adult male. One female is black parti and 1 1/2 years old and CKC reg and about 7 pounds grown, asking $450. I also have a beautiful baby doll face apricot female that is 3 years and about 6 pounds and also CKC reg, asking $450. And i have a solid chocolate male that is about 6 pounds, CKC reg, and 3 years old and $350. All have had shots and rabies shots also. All have great temperament and good with other dogs and kids. None are fixed. Located in Laplace la. Contact 9857032009.





From: Izzy - click here to contact, La Place, La
Fraud check: From where was this ad posted?
Ad Number 113, Category: Pets/Livestock
Report Ad to moderators Tue Jun 28 08:45:56 2016 GMT - (628.07 days old)
Kodi is a beautiful blue labradoodle puppy that will be available on July 7th. He is one of 9 puppies from Angel (our standard poodle) and Buck (our Labrador retriever).They were bread only because my sisters wanted puppies with their temperaments. This will be their one and only litter. These adorable babies are cared for in our home with our 3 children. They will come to you vet checked, wormed, and their first set of shots. They are very lovable and well socialized. They are puppy pad trained and have begun outdoor potty training as well. I love each and every one of these pups but my husband says we cant keep them all. If you feel you can give one of these babies all the love and attention they need and deserve you can text me @ 225-624-9981 or send email blondie70090@yahoo.com. Be prepared to tell me about yourself and give vet references. $1000.00

(If a larger resolution of the image is available, click here or on the pic to the right to display it)






From: JURIE - click here to contact, THIBODAUX
Fraud check: From where was this ad posted?
Ad Number 111, Category: Pets/Livestock
Report Ad to moderators Mon Jun 27 17:15:02 2016 GMT - (628.72 days old)
Hunter is a chocolate labradoodle that will be available on July 7th. He is one of 9 puppies from Angel (our standard poodle) and Buck (our Labrador retriever).They were bread only because my sisters wanted puppies with their temperaments. This will be their one and only litter. These adorable babies are cared for in our home with our 3 children. They will come to you vet checked, wormed, and their first set of shots. They are very lovable and well socialized. They are puppy pad trained and have begun outdoor potty training as well. I love each and every one of these pups but my husband says we cant keep them all. If you feel you can give one of these babies all the love and attention they need and deserve you can text me @ 225-624-9981 or send email blondie70090@yahoo.com. Be prepared to tell me about yourself and give vet references. $1000.00

(If a larger resolution of the image is available, click here or on the pic to the right to display it)






From: JURIE - click here to contact, THIBODAUX
Fraud check: From where was this ad posted?
Ad Number 110, Category: Pets/Livestock
Report Ad to moderators Mon Jun 27 17:13:56 2016 GMT - (628.72 days old)
Houdini is a beautiful blue labrdoodle with white markings on his chest and back paws. He will be available on July 7th. He is one of 9 puppies from Angel (our standard poodle) and Buck (our Labrador retriever).They were bread only because my sisters wanted puppies with their temperaments. This will be their one and only litter. These adorable babies are cared for in our home with our 3 children. They will come to you vet checked, wormed, and their first set of shots. They are very lovable and well socialized. They are puppy pad trained and have begun outdoor potty training as well. I love each and every one of these pups but my husband says we cant keep them all. If you feel you can give one of these babies all the love and attention they need and deserve you can text me @ 225-624-9981 or send email blondie70090@yahoo.com. Be prepared to tell me about yourself and give vet references. $1000.00

(If a larger resolution of the image is available, click here or on the pic to the right to display it)






From: JURIE - click here to contact, THIBODAUX
Fraud check: From where was this ad posted?
Ad Number 109, Category: Pets/Livestock
Report Ad to moderators Mon Jun 27 17:13:43 2016 GMT - (628.72 days old)
Meet Sawyer. He is a 5 week old CKC male boxer puppy that we currently have available. At time of pick up, he will be UTD on all vaccinations and wormings. Sawyer's sire is an 82# AKC German with an impressive German bloodline. His dam is a full American boxer and is CKC. Pups are being raised inside the home and will come pre spoiled. Approved homes ONLY. Price: $850 337-207-7376

(If a larger resolution of the image is available, click here or on the pic to the right to display it)






From: Tracy Joubert - click here to contact, Eunice, La
Fraud check: From where was this ad posted?
Ad Number 108, Category: Pets/Livestock
Report Ad to moderators Sun Jun 26 20:06:45 2016 GMT - (629.60 days old)
CKC Male Boxer Puppy Available. Sawyer is 5 weeks old and is not quite ready to go. He will be UTD on all vaccinations and wormings. His sire, Ruger, is AKC and is 3/4 German. Ruger weighs #82 and has an impressive German bloodline. His dam is full American and is CKC. Sawyer is being raised inside the home and is extremely healthy. More pics can be seen on my Facebook page Joubert's Boxer Barn. He has blue eyes.$850 337-207-7376

(If a larger resolution of the image is available, click here or on the pic to the right to display it)






From: Tracy Joubert - click here to contact, Eunice, La
Fraud check: From where was this ad posted?
Ad Number 107, Category: Pets/Livestock
Report Ad to moderators Sun Jun 26 19:50:38 2016 GMT - (629.61 days old)
We have male and female Registered Chihuahua puppies. 375 & 475 depending on puppy. They will come with shots,wormings,puppy pack,sample of food and health guaranteed. Place a depposit to hold the one of your choice. They will be ready to go at the end of June. For further information and pictures please call or text 985-373-0989. Thanks Erin





From: Erin - click here to contact, Folsom, La
Fraud check: From where was this ad posted?
Ad Number 103, Category: Pets/Livestock
Report Ad to moderators Sat Jun 25 17:42:58 2016 GMT - (630.70 days old)
For Sale: Commercial Shop Building and 1.6 acres of land. 80 x 50 under roof. 16 x 50 drop shed. Two 4' walk in doors, 3- 14' roll up doors. Has a washroom with washer and dryer, toilet with sink and a insulated room with closet and overhead loft.The room is fully insulated and wired with lights and plugs. $125,000 Price is negotiable. Located in Zwolle, LA area. PM for more info or questions.

(If a larger resolution of the image is available, click here or on the pic to the right to display it)






From: Robert Crittenden - click here to contact, Many, La
Fraud check: From where was this ad posted?
Ad Number 101, Category: Real Estate - Miscellaneous
Report Ad to moderators Thu Jun 23 20:49:13 2016 GMT - (632.57 days old)
We have male and female Registered Chihuahua puppies. 375 & 475 depending on puppy. They will come with shots,wormings,puppy pack,sample of food and health guaranteed. Place a depposit to hold the one of your choice. They will be ready to go at the end of June. For further information and pictures please call or text 985-373-0989. Thanks Erin





From: Erin - click here to contact, Zip Code 70434
Fraud check: From where was this ad posted?
Ad Number 94, Category: Pets/Livestock
Report Ad to moderators Sun Jun 19 12:48:42 2016 GMT - (636.91 days old)
Born 5/23/16. Dewclaws removed and tail docked. Deworming program started. Will be UTD with vaccinations and proof of Healthy Puppy Vet Check. $1200 Limited registration or $1500 Full registration. Mom has several champions in her pedigree. Pics of mom and dad upon request. $100 deposit holds pup up to 8 wks with balance due upon pick up.

(If a larger resolution of the image is available, click here or on the pic to the right to display it)






From: Debbie McDaniel - click here to contact, Many, La
Fraud check: From where was this ad posted?
Ad Number 86, Category: Pets/Livestock
Report Ad to moderators Fri Jun 17 19:35:24 2016 GMT - (638.62 days old)
Born 5/23/16. Dewclaws removed and tail docked. Deworming program started. Limited registration $1200; full registration $1500. Will be UTD with vaccinations. Will also come with proof of Healthy Puppy Vet Check. Pics of mom and dad upon request. Mom has several champions in her pedigree. $100 deposit holds pup til 8 wk pick up balance due.

(If a larger resolution of the image is available, click here or on the pic to the right to display it)






From: Debbie McDaniel - click here to contact, Many, La
Fraud check: From where was this ad posted?
Ad Number 85, Category: Pets/Livestock
Report Ad to moderators Fri Jun 17 19:24:51 2016 GMT - (638.63 days old)
We currently have 3 male CKC Boxer puppies available. 3 weeks old. (Not ready to leave for several weeks) Will be UTD on all vaccinations and wormings when leaving the home. Raised inside. Pre spoiled. Sire is 3/4 German and is registered AKC. Pics of parents and pups can be found on my Facebook Page, Joubert's Boxer Barn.337-207-7376

(If a larger resolution of the image is available, click here or on the pic to the right to display it)






From: Tracy Joubert - click here to contact, Eunice, La
Fraud check: From where was this ad posted?
Ad Number 84, Category: Pets/Livestock
Report Ad to moderators Fri Jun 17 12:09:16 2016 GMT - (638.93 days old)
I have a litter of CKC Malti-TZU puppies that are ready to go. They will leave with 1ST shots , wormings, a written Health Guarentee and a puppy starter pack. They arre very sweet and playful. They are $650.00 TO $700.00 CASH only !!!!!!! Call for more info Home # 337-463-2256 or call or text Cell # 337-401-7395 Thanks

(If a larger resolution of the image is available, click here or on the pic to the right to display it)






From: Annette - click here to contact, Deridder, La
Fraud check: From where was this ad posted?
Ad Number 76, Category: Pets/Livestock
Report Ad to moderators Thu Jun 16 15:02:59 2016 GMT - (639.81 days old)
I have a litter of CKC Pekingese puppies( 1 fawn female and 1 fawn male) that are ready to go. They will leave with 2nd shots , wormings, a written Health Guarentee and a puppy starter pack. They arre very sweet and playful. They are $700.00 and $1000.00 CKC registered.. CASH only !!!!!!! Call for more info Home # 337-463-2256 or call or text Cell # 337-401-7395 Thanks

(If a larger resolution of the image is available, click here or on the pic to the right to display it)






From: Annette - click here to contact, Deridder, La
Fraud check: From where was this ad posted?
Ad Number 75, Category: Pets/Livestock
Report Ad to moderators Thu Jun 16 14:23:22 2016 GMT - (639.84 days old)
~~~Aunt Bee~~~ is a drop dead gorgeous brown/tan female Min Pin. Top of the line! Current on shots, wormed, microchipped, and natural bob-tail with natural erect ears. Gotta see this one! http://www.runningridge.com Can meet buyer in Shreveport. Call/Text Nancy at 430-200-8170

(If a larger resolution of the image is available, click here or on the pic to the right to display it)






From: Nancy - click here to contact, Fouke, Ar
Fraud check: From where was this ad posted?
Ad Number 68, Category: Pets/Livestock
Report Ad to moderators Mon Jun 13 22:42:47 2016 GMT - (642.49 days old)
~~~Lopez~~~ is an outstanding brown/tan merle male Harlequin Pinscher puppy. $750.00 - current on shots, wormed, tail docked, dewclaws removed and microchipped. http://www.runningridge.com Call/Text Nancy at 430-200-8170 Can meet puppy buyer in Shreveport

(If a larger resolution of the image is available, click here or on the pic to the right to display it)






From: Nancy - click here to contact, Fouke, Ar
Fraud check: From where was this ad posted?
Ad Number 67, Category: Pets/Livestock
Report Ad to moderators Mon Jun 13 22:36:31 2016 GMT - (642.50 days old)
Female pit mix around 6 months old and a female black mouth cur around 3 years old. Both are very sweet sweet dogs. NO aggression at all. We are looking to place them in a family environment. They are not hunting style dogs and need to go to a pet home. If you are looking for a new dog, please contact me. Small re-homing fee will apply to help ensure a home that will take good care of them. Located in greensburg, la 225-394-5613 I will txt pictures on request





From: Alexis - click here to contact, Greensburg, La
Fraud check: From where was this ad posted?
Ad Number 66, Category: Pets/Livestock
Report Ad to moderators Mon Jun 13 11:42:46 2016 GMT - (642.95 days old)
2014 FORD ESCAPE S - ONLY 39,000 MILES ON CAR! $15,000.00 OBO Loaded MICROSOFT SYNC Voice Activated Premium Bluetooth Satellite Sound System 6 speed automatic transmission All Power - Keyless Alarm - Reverse Back-up Camera On Board Multi-function Computer/USB connections All Safety Features - ABS/Traction Stability Control - Airbags everywhere Great gas mileage (over 30MPG) Well Maintained with no dents or scratches. Interior in Excellent condition- no rips tears or faded seats. Only bad is there is a crack in the windshield. Car is basically brand new. Reason for selling is upgrading to a bigger SUV. CALL OR TEXT ME ANYTIME 985-705-1507 for MORE Pictures

(If a larger resolution of the image is available, click here or on the pic to the right to display it)






From: casey - click here to contact, Mandeville, La
Fraud check: From where was this ad posted?
Ad Number 65, Category: Automotive - Cars
Report Ad to moderators Mon Jun 13 01:20:39 2016 GMT - (643.38 days old)
Doberman Shepherd Puppies. 7 weeks old. Ready to go to there forever homes. Great breed. energetic, bold attitudes, intelligent. Mom is full blood Doberman and Dad is full blood German Shepherd. Female puppies are $300-$400. Interested please contact me via email or text or call. If no answer please leave a message, I will return call. Thanks

(If a larger resolution of the image is available, click here or on the pic to the right to display it)






From: Drew - click here to contact, Slidell, La
Fraud check: From where was this ad posted?
Ad Number 61, Category: Pets/Livestock
Report Ad to moderators Fri Jun 10 09:06:11 2016 GMT - (646.06 days old)
Beautiful light red female maltipoo. (Can't get pics to upload; text for pics.) Vet checked, write health guarantee, puppy care kit, and current shots/dewormings. 25 years worth of positive references. $1,400. Must be picked up in Clinton, Kentwood or Ferriday. Can delivery to some areas for a gas fee. Email or text 601-810-0142 (sorry but I work odd hours so please text).





From: Stephanie - click here to contact, Gloster, Ms
Fraud check: From where was this ad posted?
Ad Number 59, Category: Pets/Livestock
Report Ad to moderators Thu Jun 9 10:00:46 2016 GMT - (647.02 days old)
A Legacy cargo lift can be mounted to any home or structure. Whether you're at home on the coast, a lake or up in the slopes, our private payload lifts are a definitive comfort in case you're living with stairs. TRANSPORT ALL YOUR STUFF, EFFORTLESSLY. Whether it's ordinary things like staple goods and garbage or overwhelming, bulkier things like baggage or rigging -- basically stack your things onto the stage, press the remote and let your Legacy Lift do the rest. In almost no time, your things will be securely lifted right where you need them. Wherever you're going, arrive quicker with a Legacy Lift! THE SAFEST, BEST-BUILT LIFTS AROUND. http://www.legacylifts.com/cargo-lifts.php

(If a larger resolution of the image is available, click here or on the pic to the right to display it)






From: Marshall Sontag - click here to contact, Baton Rouge, LA
Fraud check: From where was this ad posted?
Ad Number 48, Category: Real Estate - Miscellaneous
Report Ad to moderators Sat Jun 4 15:41:41 2016 GMT - (651.79 days old)
This beautiful male English bulldog is 5 months old and is looking for a loving and safe place to live. he is great with kids and has an excellent personality bringing love to you and your family. he came with health certificate from a licensed veterinarian and microchip contact for more email

(If a larger resolution of the image is available, click here or on the pic to the right to display it)






From: jones - click here to contact, Alexandria
Fraud check: From where was this ad posted?
Ad Number 46, Category: Pets/Livestock
Report Ad to moderators Fri Jun 3 17:36:05 2016 GMT - (652.71 days old)
Harlequin Pinscher puppies are ready to go now! Gorgeous, stunning and head turning puppies. http://www.runningridge.com Tail docked, dewclaws removed, current shots, wormed and health guaranteed. Can meet buyer in Shreveport. Call/Text Nancy at 430-200-8170

(If a larger resolution of the image is available, click here or on the pic to the right to display it)






From: Nancy - click here to contact, Texarkana
Fraud check: From where was this ad posted?
Ad Number 36, Category: Pets/Livestock
Report Ad to moderators Wed Jun 1 19:44:44 2016 GMT - (654.62 days old)
Mom is a blue pied, these pups are just beautiful, quality, structure, color carriers, healthy, fully vaccinated and AKC papers. Price reduced, Full reg.For more information contact by email .

(If a larger resolution of the image is available, click here or on the pic to the right to display it)






From: Tim Francois - click here to contact, Thibodaux, La
Fraud check: From where was this ad posted?
Ad Number 33, Category: Pets/Livestock
Report Ad to moderators Mon May 30 17:03:32 2016 GMT - (656.73 days old)